India Holiday Packages » Agra, Alappuzha, Cochin, Cultural Tour, Golden Triangle, GTDEAL, Kerala, Kovalam, Kumarakom, Rajasthan, Trivandrum » Golden Triangle Tour India With Kerala

Golden Triangle Tour Package India with Incredible Kerala Destination : Delhi -Agra -Jaipur -Trivendrum -Alleppey -Kumarakom -Cochin Duration : 09 Nights / 10 Days. Get a Affordable Golden triangle tour package and enjoy the Tourist Attractions and Things to Do in India

Day 01 – Arrival Delhi India
Arrive Delhi, meet assist at the airport & transfer to hotel. Night stay in Delhi
Day 02 – Delhi – India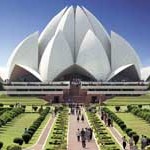 After breakfast proceed for sightseeing tour of Old & New Delhi :
OLD DELHI – A sight-seeing tour of Old Delhi would entail visiting the Raj Ghat – the memorial site where Mahatma Gandhi was cremated; Jama Masjid – the largest mosque in India and the Red Fort – once the most opulent fort and palace of the Moghul Empire. Enjoy the cycle rickshaw ride from Jama Masjid to Chandni Chowk.
NEW DELHI – An extensive sight-seeing tour of New Delhi would include a visit to the Humayun's Tomb, the Qutub Minar, a drive along the ceremonial avenue – Rajpath, past the imposing India Gate, Parliament House, the President's Residence, Lotus Temple and would end with a drive through the Diplomatic Enclave. Night stay in Delhi.

Day 03 – Delhi – Agra (By superfast air-conditioned train Dep. 06:10 hrs. Arriv. 08:05 hrs. ) Agra – Jaipur ( By road ) enroute visiting Fatehpur Sikri Early morning pick up from hotel & transfer to railway station to board the superfast air-conditioned train to Agra. Breakfast in the train. Arrive Agra in approx. 02 hours & visit the magnificent Taj Mahal – one of the seven wonders of the world surely the most extravagant expression of love ever created. 20,000 men laboured for over 17 years to build this memorial to Shah Jahan's beloved wife Also visit the Agra fort – the rusty and majestic red-sandstone fort of Agra stands on the banks of the river Yamuna and the construction was started by Emperor Akbar in 1566. At the Diwan-I-Am (hall of public audience), a colonnaded hall of red-sandstone with a throne alcove of inlaid marble at the back, the Emperor heard public petitions. At the Diwan-I-Khas (hall of private audience) where marble pavilions with floral inlays lend an ethereal ambience, the Emperor sat on his gem-studded Peacock Throne and met foreign ambassadors and rulers of friendly kingdoms & enjoy a lavish buffet lunch in a 5* hotel in Agra. After lunch drive to Jaipur enroute visiting Fatehpur Sikri- a perfectly preserved red sandstone which was the estranged capital of mughal emperor Akbar, built in 1569 and deserted when its water supply failed. Arrive Jaipur & transfer to hotel. Night stay in Jaipur.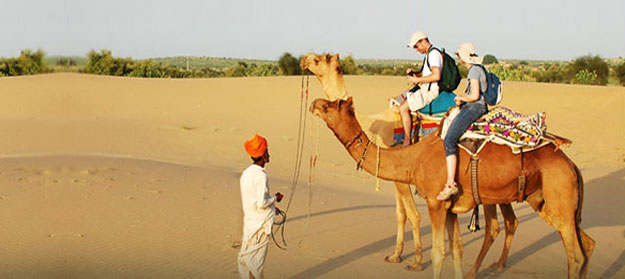 Day 04 – Jaipur ( Rajasthan )
After a relaxed breakfast proceed for a morning excursion to Amber Fort. Elephant ride ascent to the fort.
AMBER FORT PALACE – Amber is the classic romantic Rajasthani fort palace. Its construction was started by Man Singh I in 1592, and completed by his descendent Jai Singh I. Its forbidding exterior belies an inner paradise where a beautiful fusion of Mughal and Hindu styles finds it's ultimate expression. Continue sight-seeing.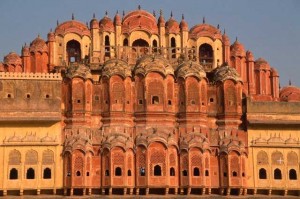 CITY PALACE - A delightful blend of Mughal and traditional Rajasthani architecture, the City Palace sprawls over one-seventh of the area in the walled city. It houses the Chandra Mahal, Shri Govind Dev Temple and the City Palace Museum.
JANTAR MANTAR - This is the largest and the best preserved of the five observatories built by Jai Singh II in different parts of the country. This observatory consisting of outsized astronomical instruments is still in use.
HAWA MAHAL - The ornamental facade of this "Palace of Winds" is a prominent landmark in Jaipur. Their five-storey structures of sandstone plastered pink encrusted with fine trelliswork and elaborate balconies. The palace has 953 niches and windows. Built in 1799 by Pratap Singh, the Mahal was a royal grandstand for the palace women. Evening enjoy an authentic Rajasthani dinner at CHOKHI DHANI VILLAGE RESORT with cultural programme. Night stay in Jaipur.
Day 05 / Jaipur – Trivandrum -Kerala ( Via Mumbai )
After breakfast chek out from hotel and transfer to airport to board the flight for Trivandrum via Bombay . Arrive Trivandrum . Meet assist at the airport and transfer to hotel at Kovalam (Trivandrum – Kovalam approx. 16 kms. ). Kovalam is an internationally renowned beach of Kerala, with three adjacent crescent beaches. Kovalam has been a favorite haunt of tourists, especially Europeans, since the 1930s. A massive rocky promontory on the beach has created a beautiful Bay of calm waters ideal for sea bathing. The leisure options at this beach are plenty and diverse – sunbathing, swimming, herbal body toning massages, special cultural programs, Catamaran cruising etc. Evening enjoy the beach. Night stay in Kovalam.
Day 06 / Kovalam (State : Kerala – India)
After breakfast sightseeing of Trivandrum :
Padmanabha Swami Temple, the only one in Kerala where foreign nationals are allowed near the Sanctum Sanctorum. Known for its mural paintings and stone carvings, the temple is a blend of Kerala and Dravidian styles of architecture.
Kuthiramalika, a palace of the erstwhile Composer King of Travancore, displays a rare specimen of workmanship in the traditional Travancore style of architecture with exquisitewoodcarvings (closed on all Mondays).
The Napier Museum, houses a rare collection of archaeological and historic artifacts, bronze idols, ancient ornaments, a temple chariot and ivory carvings (closed on all Sundays & Wednesdays).
Shree Chitra Art Gallery, displays select paintings by Raja Ravi Varma, Svetlava & Nicholas Roerich, including some exquisite works from the Rajput, Mughal and Tanjore schools of art in India. The collection includes paintings from China, Japan, Tibet and Bali (closed on all Mondays & Wednesdays). The evening is free to relax on the Beach. Night stay in Kovalam.
Day 07 / Kovalam – Alleppey (Kerala Beach Trip)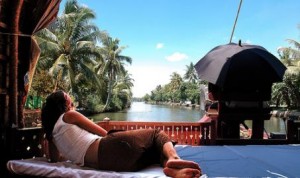 After breakfast leave to Alleppey by surface 165 kms. On Arrival transfer to Kettuvallam (House Boat). Cruise start after Lunch on board . Houseboats or 'Kettuvalloms' are luxurious boats with well-appointed bedrooms and ensuite bathrooms. You can sunbathe on the deck or observe the palm fringed landscape from your cabins. Apart from the mesmerizing surroundings it's the life along the coast that adds a touch of exotica to this experience. The locals' travel in canoes and you will find vegetable sellers, fishermen and other traders bringing household goods, door to door in small wooden boats. As you cruise along the backwaters you can ask your captain to stop at villages, paddy fields and other places. Night stay at house boat.
Day 08 / Alleppey – Kumarakom (Kerala Backwaters)
After breakfast move from house boat at Kumarakom and transfer to the backwater resort. Kumarakom is also one of the enchanting backwater regions of Kerala. The labyrinthine network of rivers, canals, streams and lagoons which form the famed backwaters offer stunning views and is an ideal place to relax. Visit Kumarakom bird sanctuary located on the banks of the backwaters and renowned for its varied avian population. Local varieties such as Waterfowls, Cuckoos and Owls, as well as the migratory Siberian Cranes can be viewed here. Day excursion to the bird sanctuary. Night stay in Kumarakom
.
Day 09 – Kumarakom – Cochin (Kerala)
After breakfast drive to Cochin. On arrival in Cochin transfer to hotel. Cochin, A port town since early centuries, Cochin attracted traders and invaders from the world over. Also known as the spice coast of India. Later sightseeing tour of cochin including The Hill Palace Museum, a fully-fledged archeological museum and Kerala's first ever Heritage Museum are the main attractions (closed on Mondays). Chinese Fishing Nets, this unique style of huge cantilevered fishing nets were erected between 1350 and 1450 AD by traders from the Court of Kubla Khan, a Chinese King. Santa Cruz Basilica, this historic church was built by the Portuguese and elevated to a Cathedral by Pope Paul IV in 1558. Pope John Paul II proclaimed the Church a Basilica in 1984. The Jewish Synagogue, constructed in 1568, this is the oldest Synagogue in the Commonwealth (closed on Saturdays & Jewish Holidays). The area around the Synagogue, called Jew Town, is the centre for Spice & Handicraft shops.Mattanchery Palace (Dutch Palace), built by the Portuguese in 1557 and presented to the Regent of Kochi (closed on Fridays). Return to hotel rest of the day free/ shopping at Ernakulam. Evening Witness Kathakali the famous dance drama of kerala. This dance is characterised by some great story telling, amazing costumes and extensive make-up. Start early to see the artist preparing themselves for the show (5 PM ). Watch in detail the ritual worth seeing hour long process of make-up as part of our daily KATHAKALI performance. After the Performance, you will have a unique opportunity to take photographs along with the artists in colorful costumes as a souvenir. Entire performance will be supported with commentary in English. Night stay in Cochin.
Day 10/ Cochin – Departure (Kerala)
After breakfast check out from hotel and transfer to airport..

Cost includes:
» 09 nights accomodation as per the itinerary with daily breakfast.
» All meals at the time of staying in air-conditioned houseboat in Alleppy.
» Surface Travel by exclusive airconditioned car.
» Train tickets from Delhi – Agra by air-conditioned chair car.
» All transfers & sightseeing as per the itinerary by exclusive airconditioned car.
» Local English speaking guides.
» Elephant ride in Jaipur ( subject to availability ).
» All taxes, driver allowances, Parking , fuel charges.
Cost does not include:
» Entrance fee to monuments.
» Any airfare
» Tips, laundry.
» Any item not shown in Cost Includes.
Internal airfares : ( Per person / Economy class )
Jaipur – Mumbai : USD 148 ( Jet airways / Dep. 08:10 hrs. Arriv. 09:45 hrs. )
Mumbai – Trivandrum : USD 185 ( Jet airways / Dep. 10:40 hrs. Arriv. 12:40 hrs. )
Cochin – Delhi : USD 176 ( Indian airlines / Dep. 07:30 hrs. Arriv. 10:30 hrs. )
Cochin – Mumbai : USD 166 ( Jet airways / Dep. 08:30 hrs. Arriv. 10:15 hrs. )
( Please note that above airfares are special fares based on advanced purchased basis so they fluctuate as per the seat availability .Once you will confirm the tour we will book the ticket and let you know if there is any changes in the airfares. )
Hotels Selected – Luxury (5* Deluxe)
Delhi : The Oberoi / The Imperial
Jaipur : The Oberoi RajVilas
Kovalam : Leela Kempinski
Alleppy : Air-conditioned Houseboat
Kumarakom : Kumarakom Lake Resort
Cochin : Brunton Boatyard
Kumarakom : Kumarakom Lake Resort
Cochin : Brunton Boatyard
Hotels Selected – Royal (5* Deluxe)
Delhi : The Metropolitan / The Lalit / The Grand
Jaipur : Hotel Trident / Le Meridien
Kovalam : Leela Kempinski
Alleppy : Air-conditioned Houseboat
Kumarakom : Coconut Lagoon
Cochin : Trident Hilton / Casino
Hotels Selected – Classic (4*)
Delhi : The Connaught / Hotel City Park / De Marks
Jaipur : Hari Mahal Palace/ Wall Street / Hotel Clarks Amer / Ramada Plaza / Country Inn & Suits by Carlson
Kovalam :Tranvencore Heritage
Alleppy : Air-conditioned Houseboat
Kumarakom : Coconut Lagoon
Cochin : Gokulam Park Inn /Avenue Regent
Hotels Selected – Jewel (3* – 4* & Heritage)
Delhi : Hotel Gautam Deluxe / Hotel Sunstar
Jaipur : Hotel Jas Vilas / Nana ki Haveli / Dera Rawatsar
Kovalam :Tranvencore Heritage
Alleppy : Air-conditioned Houseboat
Kumarakom :Kayaloram
Cochin:Arches /Napier House
Hotels Selected – Economy (2* Moderate)
Delhi : Hotel Blue Bell / Hotel De Gold
Jaipur : Hotel Vijay Niwas / Hotel Sarang Palace
Kovalam :Hotel Rockholm / Sawagat
Alleppy : Air-conditioned Houseboat
Kumarakom:Cocobay Resort
Cochin: Park Central /Woods Manor/ Abad Plaza
Golden Triangle Tour India With Kerala

,
Tour Package Updated on 2012-04-26 18:40:49. Request a FREE Quote Contact Us
Incoming search terms:
forbidding expression
verma tour and travels banner
best tour place in agra
Tinyurl for this post
More Travel Deal & Holiday Package
Travel To : Agra, Alappuzha, Cochin, Cultural Tour, Golden Triangle, GTDEAL, Kerala, Kovalam, Kumarakom, Rajasthan, Trivandrum · Tour Package :agra, agra kerala tour, golden triangle backwaters tour, golden triangle india, golden triangle kerala tour, golden triangle package with kerala, golden triangle south india tour, jaipur, kerala, rajasthan, rajasthan kerala tour, tajmahal kerala tour