India Holiday Packages » Kerala Beach Tour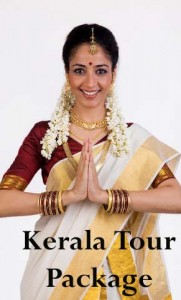 Kerala Beach Tour Day 01 : Arrive Cochin
On arrival transfer to your hotel. In the Afternoon sightseeing of Dutch Palace, built by Portuguese and presented to the Raja of Cochin in 1555 AD, Jewish Synagogue situated in Mattancherry, the Synagogue was built in 1568 AD, St. Francis Church – It is here the remains of Vasco da Gama were initially buried before it was taken to Portugal. Chinese fishing nets – Is said to have been brought from China by traders of Kubala Khan's Court, they are used at high tide. Overnight stay at hotel.

Kerala Beach Tour Day 02 : Cochin – Periyar, 195 km
After breakfast proceed to Thekkady (Periyar Wildlife Sanctuary). On reaching Thekkady check in your hotel. Thekkady is a repository of rare and endangered flora and fauna, the valley is a major watershed for two important rivers, the Periyar and the Pumba. In the afternoon go for a boat ride at Periyar Tiger reserve to view the wildlife in the sanctuary. Overnight at Thekkady.
Kerala Beach Tour Day 03 : Periyar – Kumarakom, 122 km
Morning take nature walk around Periyar Lake. Return to the hotel for breakfast. After breakfast drive to Kumarakom. On arrival check in at the hotel. Rest of the day free at leisure. overnight stay at hotel.
Kerala Beach Tour Day 04 : Kumarakom – Alleppey, 30 km
Morning an escorted morning walk through the serene Kerala villages to experience the tropical morning and to see the flora and fauna within the sanctuary. Return to the resort for breakfast. After breakfast transfer to Alleppey where you will board your very own houseboat, complete with crew. Spend the rest of the day lazily cruising the backwaters and enjoying the stunning scenery and tranquility, whilst the crew prepares traditional meals on board. Overnight on the houseboat.
Kerala Beach Tour Day 05 : Alleppey – Verkala, 100 km
After a leisure breakfast, bid adieu to your crew and drive to Varkala (100 kms). On arrival check in at the hotel. Varkala beach set atop a hill is located north of Thiruvananthapuram, the capital of Kerala. The beach is a popular holiday destination among those looking for relaxed and quiet holidays. Varkala beach is also called 'Papanashini' (Papanasham means redemption from sins) since it is believed that a dip in the holy waters of Varkala beach will purify your body and soul. Varkala Beach is also renowned for its scenic landscape. The contrast between the cliffs, sand and sea makes Varkala Beach a bewitching sight. This quiet, secluded stretch of sand is known for its mineral springs and rocky cliffs. Overnight stay at hotel .
Kerala Beach Tour Day 06 : Verkala – Trivendrum, 54 Km – Kovalam, 16 km
Morning after breakfast drive to Trivendrum, on arrival visit Padmanabha Swamy Temple, This is also a favorite tourist attraction in Thiruvananthapuram. The temple is dedicated to Lord Vishnu. Exquisite carvings and age old murals adorn the walls of the temple also visit Napier Museum, This is a 19th century monument which comprises of a collection which is quite rare and unique. Considered to be an important destination amongst the tourist attractions of Thiruvananthapuram it reflects the features of Indo Sarcenic architecture. Later proceed to Kovalam, On arrival check in at the hotel. Overnight stay at hotel.
Kerala Beach Tour Day 07 : Kovalam
Full day enjoy the water activities in Kovalam Beach. Overnight stay at hotel.
Situated on the Malabar Coast along the Kerala shoreline is a small village of Kovalam. Kovalam means a grove of coconut trees and truly the coconut trees along the beaches gives it a ravishing look.You can swim in the sea, go for a catamaran ride, go surfing, kayaking, windsurfing and parasailing. Relax and sunbathe on the golden sands or let an Ayurvedic masseur massage all your stresses away. There are craft stalls selling souvenirs and restaurants serving delicious seafood along the edge of Kovalam Beach.
Kerala Beach Tour Day 08 : Kovalam – Departure
Transfer to the airport to board the flight for onward destination.
Tinyurl for this post