India Holiday Packages » United States of America » Las Vegas Grand Canyon West Rim Helicopter Tour with Landing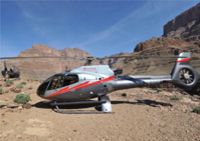 Experience a breathtaking flight over Hoover Dam, Lake Mead, Fortification Hill, an extinct volcano and many awe-inspiring views. Descend 3,500 feet inside the Grand Canyon on the Hualapai Indian Reservation and enjoy cool beverages, a light snack and a champagne toast 300 feet above the Colorado River. Fly back through the Black Canyon on your way back to the South Las Vegas Valley.
Please note: The listed price does not include a US $45 per person fuel surcharge, payable at the time of tour check-in.

You'll discover the natural beauty of the Grand Canyon as your air-conditioned state-of-the-art Eco-Star helicopter flies to the West Rim, passing over Lake Las Vegas, Lake Mead and the Hoover Dam. Hoover Dam is a spectacular sight from the air, curved between the rock canyon walls and now you'll capture amazing views of the bypass bridge. During the flight, you can listen to a recorded commentary about the Grand Canyon and its surrounds via audio headphones.


Flying deeper and further into the canyon than any other tour, you'll land on a private bluff overlooking the Colorado River for an unforgettable champagne picnic, 3,500 feet (1066 meters) below the rim. While you share a bottle of champagne under an authentic Native American Ramada shelter, your pilot/guide will be happy to answer any questions you may have about the canyon or your helicopter flight.
Your Grand Canyon helicopter scenic flight ends with a low-level pass over Black Canyon, the Hoover Dam and Fortification Hill. On landing, your transportation is waiting to whisk you back to your hotel.


Please note, there is a maximum capacity of 7 people per helicopter plus your pilot.
Special Offer – Book now and the price displayed includes a discount of almost 15% off the recommended retail price – Book Now!
based on 24 reviews
Duration: 4 hours (approx.)
Location: Las Vegas, Nevada
Product code: 5191AAHT2
Rate : From USD $299.99

Tinyurl for this post
Travel To : United States of America · Tour Package :Helicopter Tour, Helicopter Tour Las Vegas, Las Vegas, Nevada