India Holiday Packages » Pushkar Tour Packages Rajasthan India
Pushkar reviews

Pushkar Tour Packages Rajasthan, India Get Free Travel Plan from Experts before you plan your trip to pushkar. we will provide details on things to do hotels vacation rental and all details for you to have a trip to Pushkar Get Discount Tour Itinerary to pushkar. Pushkar is a holy city in Rajastan, India famous for its Brahma temple, lake, ghats, and bazaar. Pushkar is a holy town in the state of Rajasthan famous for the Pushkar lake, various ghats and temples spread all around the lake.
Safaris
Go for a camel safari in nearby villages. Pushkar is famous for camel safari. Tourists can visit small villages, crop harvesting during their camel safari ride. The view from camel safari comes exceptionally enticing. Camel safari in Pushkar is always a memorable experience for tourists. However, keep in mind that the camel is not likely to enjoy the safari.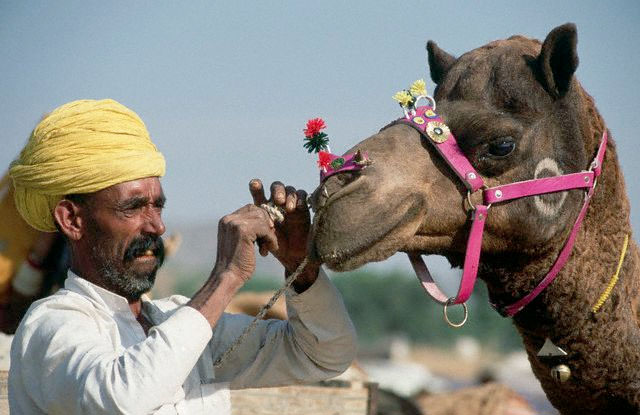 Pushkar Sightseeing Trip
Bramha temple – One of the very few temples for Lord Bramha in the world. www.brahmatemplepushkar.com
Rangji temple – This is a Vishnu temple built in south Indian style.
Chamunda temple – This is one of the 51 Shakti peeths. It is also known as Manibandh.
Panchkund Shiva temple – It is around 2-3 kms from the pushkar lake. The shiva temple is said to have been built by Pancha pandavas.
Savitri temple – It is located on top of a hill near the lake. This temple is dedicated to the goddess savitri, wife of Hindu god Brahma. This temple is the second most religious temple in Pushkar.
Pushkar Lake- Pushkar Lake is a beautiful, sanctified spot to visit in Pushkar. This lake is considered to be very old and of the time when the earth was created. This lake is a place of pilgrimage for the Hindus. Lake is surrounded by 52 different ghats to take bath, where Hindus and other tourists come to take a dip in the month of karthik.
Pushkar Camel Fair: Every year thousands of domestic and international tourists come to be a part of this amazing Pushkar Fair. This fair is organized in between October-November. Tourists come to take a holy dip in the pushkar lake at the time of karthik purnima, which is basically a full moon day. Pushkar fair is also famous as colourful and huge cattle fair. Pushkar is well known for it's camel safari and other adventures activities
Things To Do & Attractions In Pushkar
Aptaeshwar Temple
Brahma Temple
Camel Safari at Pushkar
Pushkar by Cycle
Pushkar Fair
Pushkar Lake
Savitri Temple
Varah Temple
Walk through Pushkar Bazaar
Pushkar Tour Packages Rajasthan India

,
Tinyurl for this post
Rajasthan Tour Packages
Latest Booked Packages