India Holiday Packages » Ayurveda Tourism, Kerala, MedicalTourism, Video » Somatheeram Ayurveda Resort Kovalam India Ayurveda Package

Somatheeram Ayurveda Resort Kovalam India Ayurveda Packages get Ayurveda and Rejuvenation by Experts. Get affordable Treatment Package by Ayurveda Treatment Center at Kerala India.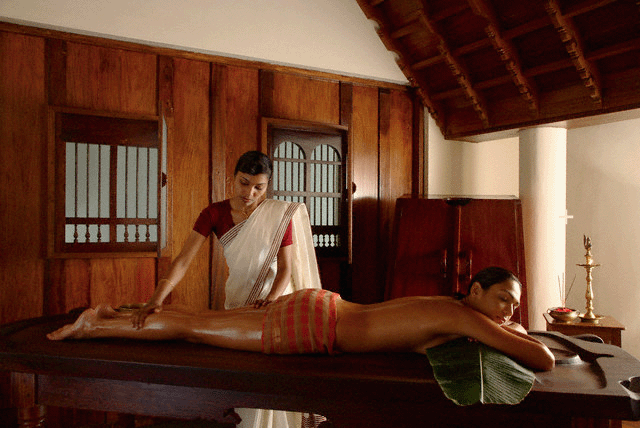 Day 01 : Trivandrum
Arrive to a warm welcome in Trivandrum. Thereafter, an Indian Holiday representative will assist you to your hotel where you can relax for the remaining part of the day. Overnight stay will be at Trivandrum.
Day 02 : Thottapally
On day 2 of the Kerala Ayurveda Tour, drive to Thottapally. Board a houseboat that will take you through the sleepy backwaters of Alleppey. Enjoy delightful sights and sounds that are sure to add up to an experience of a lifetime. Overnight stay will be on board the houseboat.
Day 03 : Alleppey – Kumarakom
Enjoy a sumptuous breakfast before disembarking from your houseboat. Thereafter, you will drive to Kumarakom and check in at a resort located by the backwaters. Overnight stay will be at the resort.
Day 04 : Kumarakom – Periyar
On day 4 of the Ayurveda Tour, enjoy a boat ride to the Periyar Wildlife Sanctuary. A haven for wildlife enthusiasts, the wildlife sanctuary is home to many exotic varieties of animals and birds. During your boat cruise, you will also be able to have a good look at many wild animals lazing on the banks of Lake Periyar. You will stay overnight at a hotel / lodge in Periyar.
Day 05 : Munnar
Drive to the beautiful hill station of Munnar after breakfast. Home to lush green tea, coffee and spice plantations, Munnar is a great place to visit for a relaxed vacation. Check into a hotel on arrival and set out on a visit to the Eravikulam National Park around afternoon. Also indulge in a tea plantation tour before returning for an overnight stay at your hotel in Munnar.
Day 06 : Cochin
On day 6 of Ayurveda Tours, drive to Cochin. Embark on a sightseeing tour on arrival besides enjoying a Kathakali performance in the evening. Stay overnight at a hotel in Cochin.
Day 07 : Kovalam Beach
Drive to Kovalam Beach in the morning and have your day full of the sun, sand and water. You can either laze around on the beach for the entire day or pamper yourself with some rejuvenating Ayurvedic therapies at the Somatheeram Ayurveda Resort Kovalam.
Day 08 – 14 : Kovalam -
Spend your days reveling in the natural beauty of Kovalam besides enjoying some of the best Ayurvedic treatments that benefit both body and soul. As advised by the doctor, you can go for 7 – 14 days of treatment at the Ayurveda Resort in Kovalam. About Somatheeram Ayurveda Resort Kovalam Discover all that Thiruvananthapuram has to offer with Somatheeram Ayurveda Resort as a base. All hotel's guestrooms have all the conveniences expected in a hotel in its class to suit guests' utmost comforts. All of the guestrooms are replete with in room safe, bathrobes, daily newspaper, desk. Services and amenities available for guests at this Thiruvananthapuram accommodation consist of salon, laundry service/dry cleaning, safety deposit boxes, room service. For a more enjoyable stay, guests can take advantage of a variety of recreational facilities, including massage, outdoor pool, steamroom. These top-class facilities are complemented to excellent services to meet the needs of visitors to Thiruvananthapuram. To book a room at the Somatheeram Ayurveda Resort, please select your dates of travel and complete fill out our secure online booking form. B

Day 15 : Trivandrum
On day 15 of the Ayurveda Resort in Kovalam, drive back to Trivandrum after breakfast. On arrival, transfer to the airport / railway station to continue with your onward journey.
The above mentioned packages include:
 Accommodation on full-board basis
Body massage
Punagathi kizhi
Pizhichil
Njavara Kizhi
Njavara Kizhi
Shirodhara
Body massage
Steam bath
OUR AYURVEDIC REJUVENATION THERAPY PACKAGES
 REJUVENATION THERAPY (3 NIGHTS)
REJUVENATION THERAPY (7 NIGHTS)
REJUVENATION THERAPY (11 NIGHTS)
REJUVENATION THERAPY (14 NIGHTS)
REJUVENATION THERAPY (19 NIGHTS)
REJUVENATION THERAPY (21 NIGHTS)
Ayurveda Packages Available
Ayurveda Destress Package
Kerala Rejuvenation Packages
Mind Relaxation Therapy
Body Purification Packages
Body Immunization Packages
Ayurvedic Slimming Therapy
Oldage Disorders Treatment
Beauty Care Programme
Ayurveda stress Relief India
Kerala Ayurveda Spa Holidays
Ayurveda Backwaters Tour
Kerala Ayurveda Eco Tourism
Ayurveda & Heritage Tour
Ayurveda & Adventurous Trip
Family Ayurveda Package
Ayurveda Houseboat Tour
Kerala Yoga & Ayurveda
Ayurveda For Neck Spinecare
Ayurveda Cultural Vacation
Ayurveda Meditation Tour
You can Request a Customize free information from from travel expert totally free of cost
Somatheeram Ayurveda Resort Kovalam India Ayurveda Package

,
Incoming search terms:
indian tourism kerala spa
somatheeram ayurveda packages
thiruvananthapuram india ayurveda
Tinyurl for this post
More Travel Deal & Holiday Package
Travel To : Ayurveda Tourism, Kerala, MedicalTourism, Video · Tour Package :ayurveda, ayurveda holidays kovalam, ayurveda india kovalam, ayurveda kerala india, ayurveda packages india, ayurveda resort kovalam, ayurveda treatment kovalam, kerala, kovalam