India Holiday Packages » Sydney » Sydney Tower Restaurant Buffet for Sydney Tourist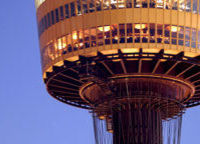 If you'd like bird's-eye views with your meal out in Sydney, dine at the Sydney Tower Restaurant. Boasting panoramic views from Sydney Harbour Bridge all the way to the Blue Mountains, the all-you-can-eat buffet lunch or dinner is ideal for families looking for casual dining or larger groups on a tight time schedule.
You'll see all that Sydney has to offer while dining at the Sydney Tower. Towering more than 300 meters above the city center, the Sydney Tower Restaurant crowns the tallest building in Sydney (formerly known as Centrepoint Tower). It's the highest revolving restaurant in the Southern Hemisphere, with one full revolution taking 70 minutes.

The Sydney Tower Restaurant serves a famously wide range of local and international dishes as part of its world-class buffet. You can choose from a succulent fresh seafood, including fresh Pacific oysters farmed in Tasmania, Australian native meats, world-renowned Terra Rossa beef and mouthwatering desserts. Check Availability
Sample Menu:
Salads – caesar salad, mixed leaf salad, Greek salad
Soup -  creamy cauliflower, potato, beef brisket, turnip broth
Bread – selection of bread, pappadams
Cold entree – marinated olives & pickles, cured meats, hummus, babaganoush, beetroot salad, Korean jelly salad, cucumber, capsicum, roast tomato, mushroom, basil, bocconcini cheese, prawns, cocktail sauce, oysters, lemon, *freshly cooked scallops, tomato salsa, octopus radish salad, wasabi mayonanaise
Hot entree – fried sweet potato, honey & seasame, Penne cream mushroom sauce, American BBQ chicken drummets, crumbed calamari, spring rolls & sweet chilli sauce
International – Thai chilli jam mussels, Moroccan vegetarian tagine, beef mansaf, vegetable Thai green curry, soy braised pork belly, tamarind coconut braised fish, lamb rogan josh raita, chorizo braised in red wine
Roasts – roast chat potato, buttered green beans, roast kangaroo rump, slow cooked beef rump, slow cooked lamb leg, roast glazed ham
Condiments – cocktail sauce, caesar dressing, balsamic dressing, tabasco, dijon, horseradish, mint jelly, mango chutney, riaita, sweet chilli, lemon dressing, wasabi mayonnaise, soy seasame dressing, tomato salsa, green peppercorn gravy, hollandaise
Desserts – chocolate mud cake, orange jam,hazelnuts, vanilla bean pannacotta, red wine jelly,caramelised banana cheesecake, fruit salad, almond roulade, pistachio mascarpone cream, mini Pavlova, passionfruit fruit, kiwi fruit, tapioca pudding, tonka bean profiterole, callebaut white chocolate, vanilla ice-cream
This is a sample menu only and may be subject to change due to food seasonality and availability


Special Offer – Save over 10% off the recommended retail price when booking the 5pm, 5:30pm or 6pm buffet dinner option – Book Now!
Sydney Tower Restaurant Buffet for Sydney Tourist

,
Incoming search terms:
Tinyurl for this post
Travel To : Sydney · Tour Package :Sydney, Sydney Tour, Sydney Tour Booking, Sydney Tower Restaurant, Sydney Tower Restaurant Booking