India Holiday Packages » Thekkady Tour Packages Kerala India
Thekkady reviews

Thekkady Tour Package Get Free Travel Plan from Experts before you plan your trip to thekkady. we will provide details on things to do hotels vacation rental and all details for you to have a trip to thekkady Get Discount Tour Itinerary to thekkady. Thekkady (Idukki district, Kerala, India) is the location of the Periyar National Park. Kumily (Idukki district) is the nearest town center to Thekkady. Thekkady is enchanting as the road winds through tranquill countryside, rich plantations & thick jungles. The sanctuary, 60 km from Idukki, 190 km from Cochin and 114 km away from Kottayam is open throughout the year, but the best season for a visit is from September to March. The sanctuary is centered around the large (24 sq km) artificial lake formed by a dam across the Periyar river. It is one of the famous holiday destinations in India.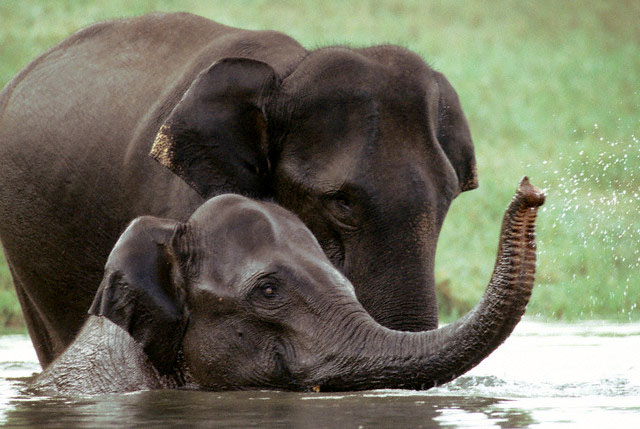 Thekkady Sightseeing Tour
Nature Walk. The guided day trek. Different nature trails traversing diverse habitats form the trekking routes, generally 4 to 5 km in length. This is an interpretive programme offering excellent opportunity to watch birds, butterflies and other wildlife. The trails often pass through evergreen and moist deciduous forests interspersed with marshy grasslands. The programme is offered between 7AM and 10:30AM and between 2PM and 3PM and lasts for about 3 hours. A maximum of 5 persons can go for trekking at a time along each nature trail, accompanied by a trained tribal guide. The Nature walk is the right programme to feel nature, hear her whispers and smell her flowers.
The Periyar Tiger Trail. The programme is unique in being conducted by a team of poachers who turned protectors of the forests. The team members are hardy and dependable with an intimate knowledge of the forest terrain. The programmes are 1 night/2 days and 2 nights/3 days. The first day's trek starts at 12 noon and ends by noon in the second or third day. The team consists of a maximum of 5 visitors, 5 guides and 2 forest officials. Normally 20 to 35 km of trekking distance will be covered, depending on the route chosen. Here, one may chance to encounter much indigenous wildlife like Nilgiri langur, giant squirrel, elephant and who knows, even the tiger! The trek route passes through hills and valleys with a variety of tropical plants and wide-open spaces. Enroute vegetarian meals will be prepared and served and country tents will be pitched for holing up in the night. Trekking groups are accompanied by armed forest guards with good communication equipments, and geared to face any emergency situation. Remember to listen to unusual and strange adventure stories of the former poachers, now your guides and protectors of the forests. Preconditions for joining the tiger trail: Visitors who are medically fit and aged between 15 – 65 are advised to take the tiger trail. Visitors should be serious nature lovers willing to sacrifice some of the luxuries and comforts of a hotel.
Bamboo Rafting. This is a dawn to dusk range hiking and rafting programme through some of the richest forest tracts of Periyar Tiger Reserve. Starting at 8AM from the boat landing, a mosaic of habitats will be traversed before the party gets into rafts made of bamboos. The forests are rich in bird life and arboreal animals like giant squirrel and Nilgiri langur. The rafting is for about three hours and one gets a panoramic view of forest-clad hills reflected on the lake. Animals like elephant, gaur and sambar are sighted keeping close to the edges of the lake. The team hitchhikes back to the boat landing by about 5PM. An armed guard and 4 guides will accompany a maximum of 10 tourists. Tea, snacks and packed lunch will be served enroute.
Boating. Boat cruises on the Periyar Lake. Typical boat ride will be for 2 hour & cost INR 150 per person.
Elephant rides, Anavachal Road, Thekkady,. Elephant ride for 30 min (Cost approx INR 350)
Plantation Tours, Various. Nr Thekkady & Kumily, lot spice plantations are present. Typically they will charge around INR 50 to 100 for showing you around plantation & explain you.
Trekking in Thekkady. The endless rolling hills and mountains surrounding Thekkady offer very good opportunities of trekking to the adventure enthusiasts. The jungles and hills inside the Periyar Wildlife Sanctuary are amongst the popular trekking trails in this region. Trekkers must obtain prior permission from the wildlife authorities and they are accompanied by a guide that will lead them safely through the Reservoir woods. Kurisamala to Kumily and Kumily to Pandikuzhi are some of the most favorite trekking routs and Pullumedu, Kurisumala, Ottakathalamedu and Grampi are noteworthy trekking bases in this area. Daily treks are organized by the Kerala Forest Department that begin from the boat landing station – Thekkady and lead to Nellikkampetty and Manakkavala. Making a way through Thekkady woods is really a thrilling and enchanting experience.
Kathakali show (Kathakali show), Behind Periyar Medows, Kumily. 1. Fabulous show of Kathakali 150.

Tiger reserve at Thekkady
Thekkady, better known as Tiger Reserve has a rich diversity of vertebrates. The diverse forest types, vayals, marshes, and a large aquatic habitat together support 62 species of mammals, 320 species of birds, 45 species of reptiles, 27 species of amphibians, and 38 species of fish.
The invertebrate fauna of Periyar is not well documented, though the predominant invertebrate orders are Protozoa, Annelida, Arthropoda and Mollusca. 160 butterfly species have been listed.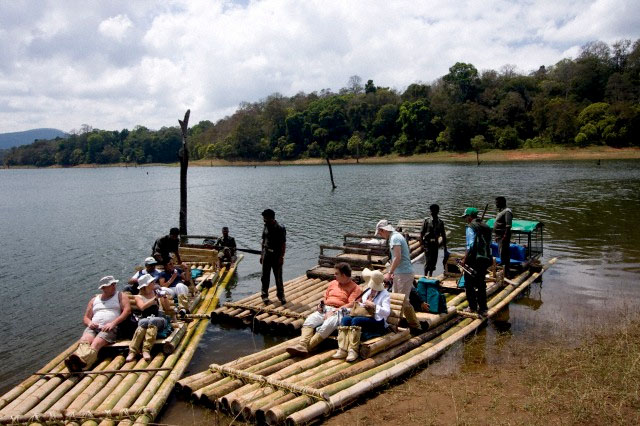 Things To Do & Attractions In Thekkady
Bamboo Rafting on Periyar Lake
Border Hiking
Bullock Cart Discovery
Jungle Inn
Jungle Patrol
Mangala Devi Temple
Nature Walk
Periyar Wildlife Sanctuary
Spice Plantation Tour
Tribal Heritage Program
Incoming search terms:
thekkady india
thekkady tourist kendram
www holiday vast gold tkekkady
Kerala tourist kendram Thekkady
kerala tourist places list with images
Tinyurl for this post
Kerala Tour Packages
Latest Booked Packages