India Holiday Packages » Bangalore, Mysore » Tourist Attraction in Mysore
Mysore reviews

Take a tour of Mysore Palace in India — part of the World's Greatest Attractions Tourist Spot

In southern Indian region of Mysore, lies a lavish and luxuriant palace of great royal history.
The Mysore Palace is famous as a meeting place for Indian royals, as well as for housing the rulers of Mysore.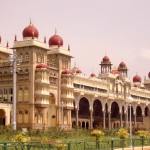 The construction of this elaborate structure started towards the end of the 19th century and took around 15 years to be completed.
Mysore Palace incorporates an interesting fusion of Hindu, Muslim, Rajput, and Gothic architectural styles.
Lovely pink domes, tall towers, beautiful arches and facades with gorgeous lattice work make it absolutely stunning.
One of the most famous Indian festivals, Dasara, is celebrated on its premises every autumn with great pomp and show.
At night, when the palace is lit, the characteristic golden lights lend its viewers an ethereal experience.
Get FREE Tour Quote We will Plan Your Trip for You
Tour Package Updated on 2011-12-18 23:41:40. Request a FREE Quote Contact Us
Incoming search terms:
Tinyurl for this post
More Travel Deal & Holiday Package
Travel To : Bangalore, Mysore · Tour Package :attractions in mysore, bangalore, mysore, mysore tour package, mysure palace tour, south india tour