India Holiday Packages » Kerala, Yoga India, Yoga Retreat » Yoga Retreat Packages Kerala India

Yoga Retreat Packages Kerala India Kasi Yoga Anushtana Kendram is a traditional hatha yoga center established by experienced yogi Sri Santhosh Karuna in 2005. The yoga center is situated outside the tourist location of Varkala, Kerala, in a peaceful and natural environment suitable for practice of yoga and meditation.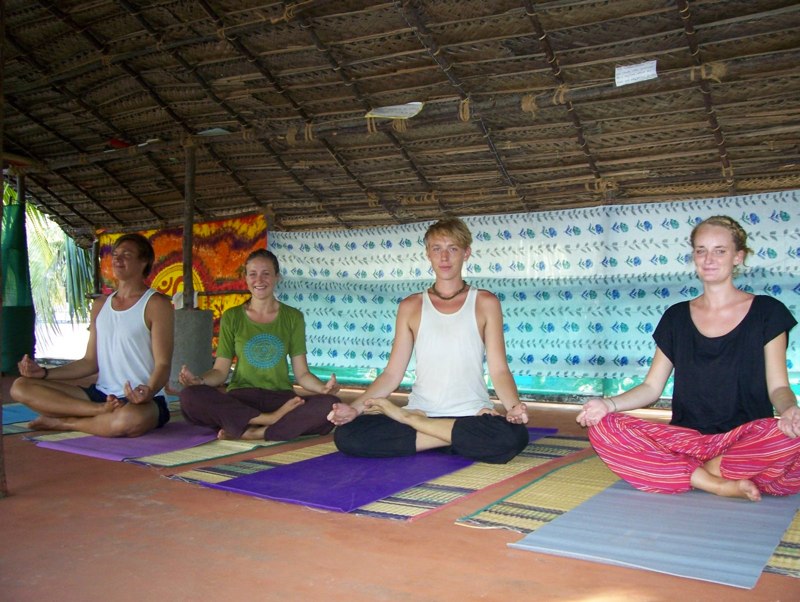 Santhosh, founder and head teacher, has many years of teaching experience working with people from all backgrounds and countries. He takes a practical approach towards the ancient tradition of yoga, making the practices and techniques applicable and useful for attaining balance in body and mind in today's modern society.
The yoga center features a yoga hall and residential house, which comfortably accommodates 14 people.
Kasi Yoga welcomes groups to experience traditional yoga and meditation with Santhosh in Varkala. For this we offer the following packages.
Accommodation: 6 double bedrooms and 3 common bathrooms in two-­?story house. Halls are big enough for sleeping bags if needed.
Food: Traditional Kerala-­?style breakfast is served. Food is vegetarian. Includes herbal or milk tea.
Availability: January 15 – July 15
Rates (including food and accommodation)
*Package 1: one yoga class and one meditation session daily
*Package 2: two yoga classes and one meditation session daily
Yoga talks, beach meditation sessions, yoga nidra may be added upon request. Groups are welcome to propose their own schedule. Additional: Airport transfers and excursions around Varkala can be arranged upon request. These services are not included in above quoted rates. Registration: Please send details and requirements of your group, including number of people, country of origin, age range, background in yoga, length of stay, desired dates and yoga package, and other information we should know to enquiry.kasiyoga@gmail.com.
Contact: For enquires and questions, please contact enquiry.kasiyoga@gmail.com. If you would like to speak to us in person, Call : (91) 9745073591 for More Details or Request a Free Quote From Our Tour Expert
Yoga Retreat Packages Kerala India

,
Tour Package Updated on 2012-04-18 13:53:20. Request a FREE Quote Contact Us
Incoming search terms:
SREE YOGA DARSHAN - YOGA AND MEDITATION KOCHI Ernakulam Kerala
www indiakasi com
images of yoga packages
SREE YOGA DARSHAN - YOGA AND MEDITATION KOCHI Ernakulam Kerala India
yoga holidays varkala
YOGA RETREATS IMAGES IN INDIA
Tinyurl for this post
More Travel Deal & Holiday Package
Travel To : Kerala, Yoga India, Yoga Retreat · Tour Package :yoga, yoga and meditation india, Yoga Holidays India, yoga holidays package, Yoga in India, yoga retreat, yoga retreat india, yoga tour kerala, yoga tour packages india, Yoga Training in India, yoga training india, yoga training kerala, yoga trip india