India Holiday Packages » California » Alcatraz and San Francisco City Tour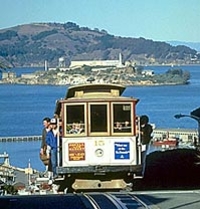 Combine a San Francisco City Tour and guided visit to Alcatraz for the ultimate introduction to San Francisco! You'll enjoy the beauty and attractions of everyone's favorite city, in addition to a scenic ferry ride to Alcatraz Island for an audio walking tour.
Likely to Sell-out! Alcatraz regularly sells out weeks in advance. Book ahead of time to avoid disappointment.

The San Francisco City Tour begins with a drive along the famous waterfront for views of San Francisco Bay and Alcatraz Island. Photo stops are made at the Golden Gate Bridge, Golden Gate Park and Twin Peaks (weather permitting).
Some of the attractions you will see on this San Francisco City Tour include:
Chinatown
Fisherman's Wharf
Victorian homes
Palace of Fine Arts
North Beach
Presidio National Park
Awe-inspiring views of Alcatraz and the Pacific Ocean
Your tour also includes the ferry ride to Alcatraz Island and an audio walking tour of the "Cell Block". This former federal penitentiary was also known as "The Rock" and housed gangsters such as Al Capone (Scarface) and Machine Gun Kelly. You'll learn about the famous escape from Alcatraz, the prison's notorious inmates and much more on this tour.
The schedule for the day depends on the availability for Alcatraz. You will be advised of the tour schedule either when you call to re-confirm your tour 24 hours prior, or upon arrival for the tour on your selected date of travel.
Special Offer – save over 10% off the recommended retail price – Book Now!
Duration: 8 hours (approx.)
Location: San Francisco, California
Product code: 2660SFODLX3
From USD $79.99 was USD $89.95

Alcatraz and San Francisco City Tour

,
Tinyurl for this post
Travel To : California · Tour Package :Alcatraz, Alcatraz and San Francisco City Tour, Alcatraz Attractions, Alcatraz Day Trip, Alcatraz Holiday Package, Alcatraz Sightseeing, Alcatraz Tour Package, California, San Francisco, San Francisco Attractions, San Francisco City Tour, San Francisco Holiday, San Francisco Tour Package