India Holiday Packages » Jaipur Tour Packages Rajasthan India
Jaipur reviews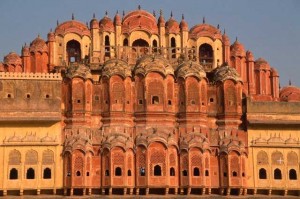 Jaipur Tour Package Get Free Travel Plan from Experts before you plan your trip to jaipur. we will provide details on things to do hotels vacation rental and all details for you to have a trip to jaipur Get Discount Tour Itinerary to Jaipur. Jaipur (also known as the Pink City), is the capital of Rajasthan in India. Jaipur is the largest city in Rajasthan and was built in the eighteenth century by Sawai Jai Singh as India's first planned city. Jaipur is a major tourist attraction amongst Indian as well as international travellers. It belongs to the tourist Golden Triangle of Delhi, Jaipur and Agra. It hosts several attractions like the City Palace, Govind Dev ji Temple, Vidhan Sabha, Birla Temple, several massive Rajput forts and so on. It also serves as a stepping stone for travelers heading to the desert cities of Jodhpur and Jaisalmer.
Jaipur Sightseeing Tour
Amber Fort, (11 km North of central Jaipur, local bus #5 from Hawa Mahal or New Gate), This massive fort-palace complex built in hybrid Hindu-Muslim style dates back to Raja Man Singh and was the royal palace of the Kachwahas from c. 1600-1727. The name has nothing to do with the rather pretty pastel yellow colour; instead, the fort is named after the town of Amber, in turn named after the goddess Amba. The main sights within the fort include the Sheesh Mahal, adorned with thousands on thousands of mirror tiles on the walls and ceiling.
Jaigarh Fort, (A 1 km walk uphill from "'Amber Fort"', or Rs 100/200 for motorbike/auto-rickshaw), . Never conquered in battle, this was considered the strongest of the three forts in the area. It is best known as the site of the world's largest cannon, the Jaivana, which was test-fired only once — according to legend, despite using only the half the design amount of gunpowder, the cannonball flew 35 km! A better reason to visit the fort, though, are the scenic gardens at the other end and the spectacular views over the Amber Fort and the hills around.
Nahargarh Fort, The smallest of the three forts, notable primarily for excellent views over Man Sagar lake and the vast sprawl of Jaipur. The fort also houses the (relatively) compact Madhavendra Bhawan palace, although its former splendour is fading fast under a new layer of graffiti and pigeon droppings. Portions of the movie Rang De Basanti were shot at this fort.
City Palace, (Inside the old city, close to New Gate and Hawa Mahal). An imposing blend of traditional Rajput and Mughal architecture. It is a vast palace complex occupying nearly one-seventh of the Pink City. It was originally built by Maharaja Jai Singh II.
Jal Mahal (Water Palace), (On the way to Sisodia Rani Garden). A Rajput style architectured palace sits in the center of the Maan-sarovar lake. The lake is often dry in the winter, but summer monsoons frequently turn it into a beautiful lake filled with water hyacinths
Jantar Mantar, (very close to the City Palace.),  9:00 a.m-4:30 p.m.. This UNESCO world heritage site is the largest of five astronomical observatories build by Maharaja Jai Singh during the period 1727-1734 in north India. The observatory consists of fourteen major geometric devices (or yantras in Hindi) for measuring time, predicting eclipses, tracking stars in their orbits, ascertaining the declinations of planets and determining the celestial altitudes etc.
Hawa Mahal (Palace of Breeze). Built in 1799 by Maharaja Sawai Singh as part of City Palace. It was an extension of the Zenana (women) chamber. It's purpose was to allow royal ladies to observe everyday life in the street below without being seen. It is a five storey high red sandstone structure complete with over 950 windows.
Gaitore (Gatore), (In the walled city area named Brahmpuri, the foothills of Nahargarh Fort). This is a royal cremation site of the royal rulers of jaipur.
Anokhi Museum of Hand Printing, (Kheri Gate, Amber),  A beautiful clean museum dedicated to the traditional art of hand block printing textiles, this museum is housed in a recently restored heritage haveli tucked into the back streets of old Amber.
Govind Devji Temple – For Vaishnavites, particularly followers of Lord Krishna, this is the most important temple in the world after Vrindavan. Lord Krishna presiding in the temple were brought to Jaipur from Vrindavan during Mughal rein. According to popular legend, Lord Krishna's idol in the temple looks exactly like Krishna's form while his incarnation of Earth. It is located at Jainiwas Gardens, Jalebi Chowk, in the same campus as City Palace
Lakshmi Narayan Temple (aka The Marble Temple) (Birla Temple), (below the well known Moti Dungri fort). is a relatively new temple made of white marble with beautiful carvings. It covers a vast area in Jaipur city and is built in a contemporary manner. Birla Temple is completely constructed with finest high quality white marbles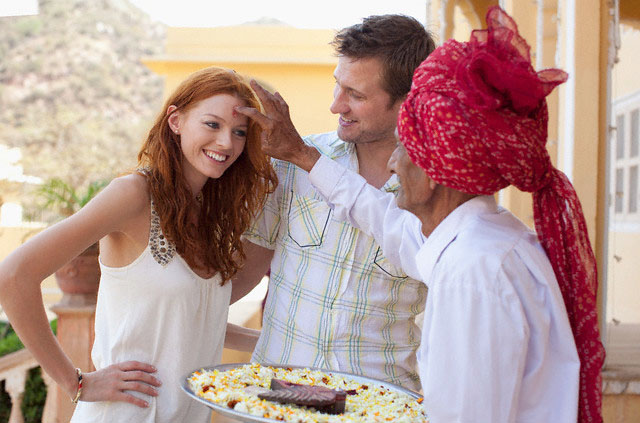 Things To Do & Attractions In Jaipur
Albert Hall
Anokhi Museum of Hand Printing
Birla Planetarium
Chokhi Dhani Village
City Palace And Museum
Elephant Ride And Visit Amer fort
Gem Palace
Hawa Mahal
Jaigarh Fort
Jalmahal
Jantar Mantar
Kanak Vrindavan
Laxmi Narayan Temple
Light and Sound Show at Amber Fort
Nahargarh Fort
Peacock Garden
Pink Pearl – The Fun City
Ram Niwas Bagh
Shopping Tour in Old City
Sisodia Rani Ka Bagh And Palace
Jaipur Tour Deal
Book Hotels & Vacation Rental in Jaipur
Travel Deal: Request a Free Quote
Delhi-Jaipur-Delhi (same day return) Daily except Monday
Delhi-Jaipur-Delhi 0515 Hrs.
Pick up from hotel & transfer to Railway Station. to board the air conditioned train to Jaipur .
Delhi-Jaipur-Delhi 0600 Hrs.
Shatabdi Exp. departs New Delhi . Breakfast in the train .
Delhi-Jaipur-Delhi 1040 Hrs.
Arrive Jaipur, Pick up from Railway Station & proceed for Amber Fort – Amber is the classic romantic Rajasthani fort palace. Its construction was started by Man Singh I in 1592, and completed by his descendent Jai Singh I. Its forbidding exterior belies an inner paradise where a beautiful fusion of Mughal and Hindu styles finds it's ultimate expression. Ride up on Elephants to the former capital of the royals set against the backdrop of the wooded hills.
Jaipur Tour Package 1300 Hrs.
Transfer to a Five Star Hotel for buffet lunch.

Jaipur Tour Package 1430 Hrs.
Proceed for City Palace – A delightful blend of Mughal and traditional Rajasthani architecture, the City Palace sprawls over one-seventh of the area in the walled city. It houses the Chandra Mahal, Shri Govind Dev Temple and the City Palace Museum. which is a blend of Rajasthani and Mughal architecture. A part of palace has been converted into museum. It has an impressive collection of arts, carpets, enamelware and weapons.
Later visit Palace of Winds also known as Hawa Mahal, the ornamental facade of this "Palace of Winds" is a prominent landmark in Jaipur. Their five-storey structures of sandstone plastered pink encrusted with fine trelliswork and elaborate balconies. The palace has 953 niches and windows. Built in 1799 by Pratap Singh, the Mahal was a royal grandstand for the palace women.this elaborate building, now little more than a façade, is encrusted with delicate screens and carved balconies from which the royal ladies, confined to their quarters, could sneak views of the outside world.
Also visit Jantar Mantar- This is the largest and the best preserved of the five observatories built by Jai Singh II in different parts of the country. This observatory consisting of outsized astronomical instruments is still in use. Past, present and future mergeat Jai Singh's Observatory, where time has been accurately measured since the 17th century.
Jaipur Tour Package 1700 Hrs.
Transfer to Railway Station to board the train to Delhi.

Jaipur Tour Package 1755 Hrs.
Shatabdi Exp. departs Jaipur . Dinner in the train.
Jaipur Tour Package 2230 Hrs.
Arrive Delhi & Pick up from Railway Station. & transfer to hotel.
Cost :- Subject to minimum Two person travelling : US $ 130 per person
Subject to Single person US $ 150
Cost Includes:
>>Train tickets for Delhi-Jaipur-Delhi in air-conditioned chair car
>>All transfers & sightseeing by exclusive air-conditioned cars
>>Professional government approved English speaking guide
>>breakfast, dinner in the train & buffet lunch in 5* hotel in Jaipur
>>Elephant ride at Amber fort
>>all taxes
>>parking etc.
Cost does not Include:
>>Entrance fee to monuments beverages
>>tips
>>camera fee etc.
Do not protect yourself by a fence, but rather by your friends.
Special care is taken while selecting the hotels , As you may be aware that prices for same category of hotels are NOT the same , we select the hotels based on the quality & services & not just because it is a 4 * or 5 * hotel, Thatswhy some hotels listed in our classic catergory ( 4 * ) are actual 5 * hotels but we use them in 4 * categories. Hotels are subject to availability, please note that due to peak season starting from Oct onwards, most of hotels in 4*- 5* category are already fully booked for many dates starting from october, Once you finalise the booking, we shall start booking the hotels.
Jaipur Tour Packages Rajasthan India

,
Incoming search terms:
Tinyurl for this post
Rajasthan Tour Packages
Latest Booked Packages