India Holiday Packages » Jodhpur Tour Packages Rajasthan India
jodhpur reviews

Jodhpur Tour Package Get Free Travel Plan from Experts before you plan your trip to jodhpur. we will provide details on things to do hotels vacation rental and all details for you to have a trip to jodhpur Get Discount Tour Itinerary to jodhpur. Jodhpur is the second largest city in the state of Rajasthan, India. It is called the Gateway to Thar, as it is literally on the edge of the Thar desert. It is also called the Sun City as the sun shines (very bright and hot!) almost every day of the year. Jodhpur is an important division of the North Western zone of the Indian Rail network . It is well connected by direct trains from all metros and major cities in India, including Delhi, Mumbai, Ahmedabad, Jaipur, Jaisalmer, Barmer, Bikaner, Ajmer, Alwar, Agra, Kanpur, Allahabad, Gaya, Kolkata, Indore, Lucknow, Varanasi, Patiala, Chandigarh, Kalka, Jammu, Chennai, Bangalore and Hyderabad.
Sightseeing in Jodhpur
Mehrangarh Fort dominates the city and is the largest fort in all Rajasthan. Founded in 1458 as the site of Rao Jodha's new capital — hence the name, Jodhpur — the city has grown around it, and in the 500 years that have passed the fort has never been taken by force. It's easy to see why: it occupies the entire top of a 150 m hill with commanding views all around, with some three kilometers of massive ramparts built around the edges. An english owned company 'Flying Fox' operate a zip tour out of the beautiful Chokelao Gardens within the fort.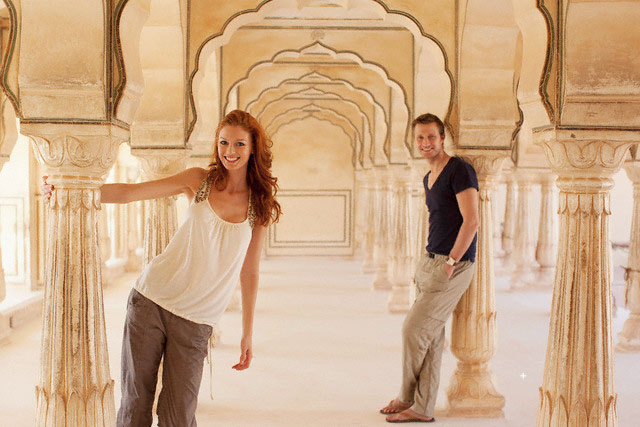 The name "Fort" belies the size of the complex, which houses the Maharaja's palace, several temples and, tucked away in the back, an extensive garden still farmed to this day. Highlights within the palace include:
Moti Mahal (Pearl Hall). Pearl-colored inside and decorated with colored glass windows, this is where the Maharaja held his audiences, with the five alcoves on the far wall allowing his queens to listen in.
Sheesh Mahal (Mirror Hall). Just what the name says.
Phool Mahal (Flower Hall). The most extravagant of them all, this was the Maharaja's pleasure chamber, for dancing girls and revelry.
Zenana Deodi. The inner sanctum of the palace once guarded by eunuchs, this is where the Maharaja's wives whiled away their days. The delicate sandstone screens and carvings are exquisite.
Chamunda Mataji Temple. Tucked away at the far end of the battlements, this temple is devoted to Rao Jodha's favorite goddess and remains a local favorite to this day.
A number of people are employed here and there to add flavor by dressing in period costume and doing photogenic things like playing traditional instruments and smoke opium (yes, the real thing). Snap away, but they'll appreciate a tip if you do. The museum also includes galleries devoted to howdahs (elephant-mounted seats), palanquins, fine arts, weaponry, and the inevitable Turban Gallery.
Historical sites
Jaswant Thada, 1 km downhill from Mehrangarh (easily walked). Royal cenotaphs built in marble, with a picturesque location next to a little lake. Entry Rs 30, plus Rs 25 for a camera.
Mandore, 7 km outside the city. The ancient capital of Marwar, before Jodhpur was built.
Umaid Bhawan Palace. Clearly visible to the south of the city and completed only in 1944, this is the last great palace built in India. The Maharaja of Jodhpur lives here to this day, but half the building has been converted to a 5-star hotel (see Sleep) and there is also a small museum on grounds (Rs. 50, open 9 AM to 5 PM). You'll have to take a rickshaw to get here, and it's best to ask them to wait: figure on Rs. 100 for a round-trip with an hour's waiting time.
Khejarla Fort , located 85 km. from the main city. Situated in a rural setting, the 400 year old, Fort Khejarla offers guests an enlivening experience. The stunning red sandstone monument is an example of the Rajput architecture. The Fort offers picturesque settings, latticework friezes, and intricate Jharoka. To reach Khejarla from Jodhpur, head on Jodhpur Jaipur highway for 73 km. You'll cross Bhavi village and a railway crossing. After railway crossing go 3.5 kms and take a left turn. Then go straight for 12 km and you'll find Khejarla fort.
Natural sites
Balsamand Lake – now converted to a resort
Kailana Lake – a picnic spot and a main drinking water source for the city
Ranisar Padamsar – Ranisar was made by Queen Jasmade Hadi, Rao Jodha's wife in 1459. Ranisar is situated near Fateh Pole in Mehrangarh.
Gulab Sagar Lake – Gulab Sagar water storage was constructed by Gulab Rai in 1788.
 Temples
Baba Ramdev Temple, Masuria Hills.
Mahamandir Temple, Mahamandir Chauraha.
Pal Balaji Temple, Pal Gaon.
Santoshi Mata Temple, Lal Sagar.
Isqkiya Gajanan Ji Temple, Juni Mandi.
Things To Do & Attractions In Jodhpur
A walk through Lakhara Bazaar
Bishnoi Village Trip
Evening at Mehran Terrace
Jaswant Thada
Kaylana Lake
Mahamandir
Mandore Garden
Mehrangarh Fort
Pal Haveli rooftop restaurant
Umaid Bhawan

Jodhpur Tour Packages Rajasthan India

,
Incoming search terms:
lal sagar temple jodhpur
jodhpur all company name
Tinyurl for this post