India Holiday Packages » Agra, Bodhgaya, Buddhist Pilgrimage, Delhi, Golden Triangle, India, Jaipur, Jodhpur, Kathmandu, Nepal, Pilgrimage, Rajasthan, Varanasi » Buddhist India Nepal Pilgrimage Tour Packages

Buddhist India Nepal Tour Packages Destinations : Delhi – Jaipur – Agra – On Train – Varanasi – Bodhgaya – Rajgir – Nalanda – Patna – Kushinagar – Balrampur – Lucknow – Kathmandu – Delhi Duration : 14 Nights and 15 Day


Day 01 : Arrive in Delhi
On arrival at Delhi airport or railway station, our representative will meet you to pick you up and transfer to your hotel. Rest of the day is at your leisure.
Overnight At Hotel.

Day 02 : Delhi / Jaipur (250 Kms – 05 hrs):
After a morning at leisure we drive to Jaipur – the fabled "pink city" of the desert named after Jai Singh, the former Maharaja of Jaipur. The palaces and forts of the yesteryears, which were witnesses to the royal processions and splendors, are now living monuments. We arrive and check inn to the hotel. Overnight stay at the hotel.
Day 03 : In Jaipur:
After enjoying a hearty breakfast at the hotel we leave for a half – day sightseeing stopping to view the elegant Hawa Mahal (Palace of the Winds) – this elaborate building, now little more than a façade, is encrusted with delicate screens and carved balconies from which the royal ladies, confined to their quarters, could sneak views of the outside world. Later we visit the unique Jantar Mantar Observatory – situated in the heart of the city where time has been accurately measured since the 17th century. Afternoon at leisure. Overnight stay at the hotel.




Day 04 : Jaipur / Agra (250 Kms – 5 hrs):
After a breakfast at the hotel we visit the dramatic hilltop fortress at Amber – ascend the imposing fort on a painted elephant. We wander among glittering inlays and the Hall of Mirrors. Later we drive for five hours to the City of Taj, Agra enroute visiting the evocative city of Fatehpur Sikri – built by Emperor Akbar as his capital and palace in the late 16th century, it is a veritable fairytale city built of red sandstone, and its "ruins" are in pristine condition. Reach Agra by evening and check in to the hotel. Overnight stay at the hotel.
Day 05 : Agra / Varanasi (By Overnight Train):
After having our breakfast we proceed for the city sightseeing tour visiting the magnificent Taj Mahal, which is entirely made of white marble and its walls are decorated with exquisite Pietra Dura (stone inlay) work.
Post lunch tour of the imposing Agra Fort – built of red sandstone and marble is a hilltop citadel with fabulous courtyards, fountains and gates.
Evening transfer to the Railway station to board Overnight Train to Varanasi.



Day 06 : In Varanasi:
Arrive Varanasi in the morning and transfer to hotel visiting Sarnath enroute, an important Buddhist pilgrimage point. Afternoon we proceed for the city tour visiting various temples including The Vishwanath Temple, built by the Birlas, was planned by Pandit Madan Mohan Malaviya. The Bharat Mata Temple houses, instead of gods and goddesses, a huge relief map in marble of the whole of Indian subcontinent. The Tulsi Manas Temple, built in 1964, is dedicated to Lord Rama. Evening view "Aarti" ceremony on the Ghats. Overnight stay at the hotel.
Day 07 : Varanasi / Bodhgaya (242 Kms – 06 hrs):
Morning we take a Boat cruise at the river Ganges to observe the way of life of pilgrims by the Ghats and later we drive to Bodhgaya. Arrive Bodhgaya and check – in at hotel. Bodhgaya – most sacred place for Buddhists as it has a Peepul tree under which Gautama the Buddha attained enlightenment some 2500 years back. Overnight stay at the hotel.
Day 08 : In Bodhgaya:
After enjoying our breakfast we embark on a sightseeing tour of Bodhgaya visiting Mahabodhi Temple – depicting the various phases of Buddha's journey towards enlightenment, showing different aspects of his life; Bodhgaya Archaeological Museum – houses a small collection of Buddhist sculpture from the 1st century B.C, to the 11th century A.D; Jagannath Temple close by has a four armed statue of Shiva in black stone. Overnight stay at the hotel.
Day 09 : Bodhgaya / Patna (109 Kms – 4.5 hrs):
Early morning we shall drive to Patna en-route sightseeing of Rajgir. Rajgir abodes the Japanese built Vishwa Shanti Stupa, where Buddha delivered summons. Other places include the Venuvan and Saotarangi Cave. Later we shall also visit Nalanda where one can still find the ruins of the world-renowned 5th century CE Nalanda University. Nalanda is a site where Buddha paved several visits to deliver his sermons and teachings. Patna City Tour (Gol Ghar, Patna Shahib) Overnight stay will be stay will be at the Hotel.
Day 10 : Patna / Kushinagar (253 Kms – 06 hrs):
Morning drive to Kushinagar, on arrival check – in at hotel. Later we visit the Rambhar Stupa – which marks Buddha's cremation ground. Our second stop is Mahaparinirvana temple – which houses the recumbent figure of Lord Buddha. Overnight stay at the hotel.
Day 11 : Kushinagar / Balrampur (216 Kms – 05 hrs):
Morning drive to Balrampur. On arrival check – in at hotel. Rest of the day at leisure. Overnight stay at the hotel.
Day 12 : Balrampur / Lumbini – Lucknow (153 Kms – 4.5 hrs):
Morning drive to Lucknow, Enroute Lumbini. Lumbini is the place where Buddha was born 2500 years ago. Rest of the day at leisure. Overnight stay at the hotel.
Day 13 : Lucknow / Kathmandu (By flight):
After Breakfast Transfer to airport to board flight for Kathmandu (Buddha Air Flight). Arrive Kathmandu at 1620 hrs and transfer to hotel. Kathmandu – surrounded by green hills and mountains with snow-capped peaks against its northern and eastern background the Valley is indeed beautiful. Overnight stay at the hotel.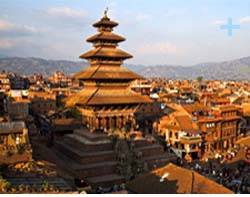 Day 14 In Katmandu:
After breakfast we embark on a city tour of Kathmandu visiting Pashupatinath Temple – the most sacred of the Hindu temples in Nepal dedicated to lord Shiva, built in 1696. We carry on the sightseeing tour of the Patan – a city of architecture and fine arts. Sometimes known as "Town with a Thousand Golden Roofs". Visit Tibetan Handicraft center at Jawalakhel to watch carpet weaving.
Post lunch Sightseeing tour of Swayambhunath – the oldest Buddhist shrine. Looking east from here, one can see the entire Kathmandu valley spread out below. A short drive will take you to Boudhanath – the worlds largest stupa; a sight of great reneration to the Buddhist. We continue to Kathmandu Durbar Square – the temple of the Living Goddess and the old Royal Palace. Finally, visit Kasthamandup – a temple built from a single tree from which the Kathmandu derives its name. Overnight at the hotel.
Day 15 Kathmandu / Delhi (By Flight):
Morning at leisure. Afternoon fly to Delhi, met on arrival, and leave for a small ride of New Delhi drive past India Gate, President's House, Parliament House, stop to explore the local markets. Later have your dinner and than transfer to the airport to Board your homeward flight or connect to your onward destination.
Incoming search terms:
varanasi in railway board com
agra ja taj mahal
taj mahal situated
varna si pakage
Tinyurl for this post
More Travel Deal & Holiday Package
Travel To : Agra, Bodhgaya, Buddhist Pilgrimage, Delhi, Golden Triangle, India, Jaipur, Jodhpur, Kathmandu, Nepal, Pilgrimage, Rajasthan, Varanasi · Tour Package :agra, Buddhist Pilgrimage Kathmandu, Buddhist Pilgrimage Nepal, Buddhist Pilgrimage Tour Package. Buddhist Pilgrimage India, Buddhist Tour Nepal. Buddhist Tour India, Buddhist Tour Package India, India Nepal Buddhist Tour, jaipur, kathmandu, nepal, rajasthan, varnasi