India Holiday Packages » Agra, Bikaner, Golden Triangle, Incredible India, Jaipur, Jaisalmer, Jodhpur, Mandawa, Rajasthan, Travel, Udaipur » Rajasthan Tour Packages India

Rajasthan Tour Packages India offers trip to Rajasthan from any part of the world Duration Offers : 14 Days /13 Nights 5 Days /4 Nights 10 Days/ 9 Nights 7 Days/6 Nights 12 Days 11 Nights Destinations : Delhi/Mumbai -Agra – Jaipur – Udaipur – Jodhpur – Jaisalmer – Bikaner – Mandawa – Delhi/Mumbai.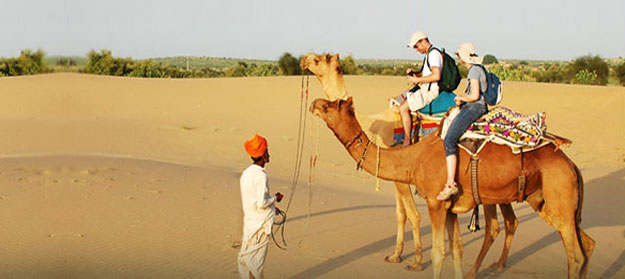 Rajasthan Tour Itineraries Sample
Day 01/Arrival Delhi
Arrive Delhi-Assistance on arrival and transfer to hotel.
Day 02/ Delhi – Agra
After breakfast proceed for sightseeing tour of Old & New Delhi:
OLD DELHI – A sight-seeing tour of Old Delhi would entail visiting the Raj Ghat – the memorial site where Mahatma Gandhi was cremated; Jama Masjid – the largest mosque in India.
NEW DELHI – An extensive sight-seeing tour of New Delhi would include a visit to the Humayun's Tomb, the Qutub Minar, a drive along the ceremonial avenue – Rajpath, past the imposing India Gate, Parliament House, the President's Residence and would end with a drive through the Diplomatic Enclave. Afternoon drive to agra, on arrival transfer to hotel. Night stay in Agra.
Day 03 / Agra – Jaipur
Morning at sunrise visit the world famous Taj Mahal, built by the Mughal Emperor Shahjehan in 1630 for his queen Mumtaz Mahal to enshrine her mortal remains. Also visit Agra Fort, containing the Pearl Mosque – the rusty and majestic red- sandstone fort of Agra stands on the banks of the river Yamuna and the construction was started by Emperor Akbar in 1566. At the Diwan-I-Khas (hall of private audience) where marble pavilions with floral inlays lend an ethereal ambience, the Emperor sat on his gem-studded peacock Throne and met foreign ambassadors and rulers of friendly kingdoms. Also visit Itmad-up-Dau's tomb, built by Noorjehan in memory of her father. Afternoon drive to Jaipur enroute visiting Fatehpur Sikri, built by Emperor Akbar in 1569 to commemorate the birth of his son and later abandoned due to scarcity of water. Visit the remains, it fortifications within the city including Jama Masjid, Tomb of Salim Chisti, Panch Mahal and other palaces. On arrival transfer to hotel. Night stay in Jaipur.
Day 04 / Jaipur
Morning excursion to Amber Fort the ancient capital of the state until 1728 and see the Sheesh Mahal or the Hall of Victory glittering with mirrors, Jai Mahal and temple of Kali. Ascend, on elephant back, the hill on which the fort is situated. Afternoon city sight seeing tour, Jaipur the capital of Rajasthan was given a colour of pink a century ago in honour of a visiting Prince. Ever since, it has retained the colour. Built by Maharaja Jai Singh, the notable astronomer, this city is 260 years old. Visit maharaja's City Palace of winds. Overnight at the hotel.
Day 05/ Jaipur – Udaipur
Morning drive to Udaipur- an oasis in the desert state of Rajasthan enroute visiting the Jain temples at Ranakpur, superbly preserved in a near-perfect condition for over 500 years. The most attractive features are the 29 halls of the temple, which have 1444 pillars of which no two are like. Arrive Udaipur and transfer to hotel. Night stay in Udaipur.
Day 06/ Udaipur
Morning city sight seeing tour. Built in 1559 A.D. by Maharaja Udai Singh, the city has been described as the most romantic spot on the continent of India by Col. James Todd. Visit theCity Palace museum, the Jagdish temple, Sahelion Ki Bari ( Queen's resort for their friends) Bhartiya Lok Kala Mandir ( Folk art museum) and the Pratap Memorial. Afternoon leisure. Overnight at the hotel.
Day 07/ Udaipur – Jodhpur
Drive for Jodhpur after breakfast. On arrival check in at hotel. Overnight at the hotel.
Day 08/ Jodhpur
Morning city sight seeing tour. Jodhpur, stronghold of the fierce Rathore clan, was founded in 1459 by Prince Jodha. Visit the Mehrangarh Fort, situated on a low sandstone hill. Within the fort, visit Moti Mahal and Phool Mahal. Also visit Jaswant Thada, an imposing marble cenotaph, built in memory of Maharaja Jaswant singh II around 1899 and Umaid Public gardens. Overnight at the hotel.
Day 09/ Jodhpur – Jaisalmer
Morning drive to Jaisalmer, on arrival check in at the hotel. Overnight at the hotel.
Day 10/ Jaisalmer
Morning city sight seeing tour. Throbbing in the heart of the Thar, the burnished sandstone, is an intricately molded wonderland in place of a barren land, today stands a city of gilded magic. The origins of Jaisalmer go back to the 12th century, when Rawal Jaisal abandoned his old fort at Ludarwa and laid the foundation of a new city. Visit the magnificent fort the Patwon Ki Haveli ( Mansion) and Salim singh Ki Haveli, whit their carved balconies and brackets which are supreme examples of the art. Evening camel ride to visit Sam Dune.
Day 11/ Jaisalmer – Bikaner
Morning drive to Bikaner. On arrival transfer to the hotel. Night stay in Bikaner.
Day 12 / Bikaner
Morning after breakfast city sight seeing tour. Bikaner is named after its founder Rao Bikaji in 1488. But long before this, the city was trade center on the caravan routes from Africa and West Asia. Bikaner's dominant features are rippling sands and abundant sunshine. The city stands on an elevation, enclosed by a 7 Kms wall, which can be entered from 5 gate. Bikaner City is bolstered by imposing walls and has a 16th century fort housing old palaces, temples and mosque. Founded by Raja Rai Singh the fort is distinguished by its long range of 37 pavilions, a line of balconies and aerial windows of varying designs. Also visit Lallgarh Palace, the museum, Bhanda Sagar Jain and Deshnoke Rat temple. Night stay in Bikaner.
Day 13/ Bikaner – Mandawa
Morning drive to Mukandgarh/Mandava, on arrival check in at the hotel. Afternoon visit Mukandgarh/Mandava, foundin 1755 by Thakur Nawal Singh and still the home of his descendants, has beautiful frescoes, havelis and mansions. Mandawa castle one of the finest castles of Rajasthan, is now a hotel and house of collection of armories, costumes of ancestors, canons from 1820 ancient coins, numismatic collection and many other interesting items, preserved in a museum.
Day 14/ Mandawa – Delhi – Departure
Drive for Delhi, Arrive Delhi and transfer to Airport for onward Journey.
Get free information on Rajasthan tour package India, You can request a Free Customize tour package from our tour package totally free of Cost we provide totally free service
Rajasthan Tour Packages India

,
Incoming search terms:
rajasthan tourism
rajasthan patsed mandir
rajasthan tour
rajasthan tour packages
rajasthan tour pictures
rajasthan tourism packages
Tinyurl for this post
More Travel Deal & Holiday Package
Travel To : Agra, Bikaner, Golden Triangle, Incredible India, Jaipur, Jaisalmer, Jodhpur, Mandawa, Rajasthan, Travel, Udaipur · Tour Package :agra, bikner, golden triangle, jaipur, jaisalmer, jodhpur, mandawa, rajasthan, rajasthan india tour package, rajasthan summer vacation package, rajasthan tour from delhi, rajasthan tour from mumbai, rajasthan tour operator, rajasthan tour package cost, rajasthan tour package offer, rajasthan tour packages, rajasthan tour with tajmahal, rajasthan vacation package, udaipur