India Holiday Packages » ECOTOURISMINDIA, Goa, Wildlife » Goa Eco Tourism Packages India

Goa Eco Tourism Holiday Package Includes travel to Beaches, Parks, Wildlife Sanctuaries ie Bhagvan Mahavir Wildlife Sanctuary and Mollem National Park, Bondla Forest, Cotigao Wildlife Sanctuary, Dr. Salim Ali Bird Sanctuary. Enjoy the Eco Tourist Spot/Places in Goa India. Duration : 6 Day and 5 Nights You can Customize your Trip for your Budget
Land Goa at Morning and Your Tour Package Starts with a Welcome Breakfast and Traditional Welcome


Day 01: Goa
Explore the North Goa & South Goa. Visit Fishing village : Fishing villages are part of Goa's rich cultural heritage. Local Goan fishing village is created on the grounds of the hotel, forming a perfect backdrop for a charming evening in a very rustic atmosphere. Artisans display their skills whilst the village dancers whirl to the music of a local band. Overnight: Hotel
Day 02: Goa Beaches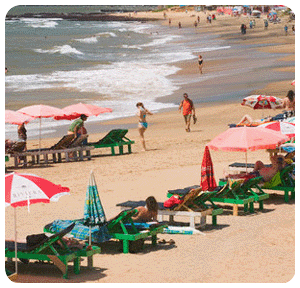 Free to relax on Beach. In the evening, enjoy Sea food Bar-be-cue on the beach – Dine under a starlit sky on succulent lobsters, jumbo prawns and other local seafood delicacies which form part of a delightful bar-be-cue set up on a lovely stretch of the Goan beach. Guests may also cook their own food on skewers over a camp fire. A local musician captures the magic of the moment on his guitar strings. Overnight: Hotel
Day 03: Goa Bhagvan Mahavir Wildlife Sanctuary and Mollem National Park
Enjoy the Eco Tourism spots Bhagvan Mahavir Wildlife Sanctuary and Mollem National Park. Situated along the North East border of Goa at Molem, about one-and-a-half hours' journey from Panaji (60 kms), the Bhagwan Mahavir Wildlife

Sanctuary covers 240 sq.kms of thick forest clad slopes on the Western Ghats and its valleys and is the biggest of the three sanctuaries of Goa. Rich in wildlife, it is a paraside for bird watchers. Besides flora and fauna, there are many important geological and historical features in this sanctuary. Dushsagar falls, about an hour's journey from Colem by train, is a feast for the eyes. The 'Devil Canyon' is another beautiful geological spot. The famous Lord Mahadeva Temple situated at Tambdi Surla is about 13 kms from Molem.
Transfer to Hotel/Resort after Small Shopping at Night
Day 04: Bondla Forest Goa


Day 4 of Eco Tour Covers Bondla Forest which is 52 kms. from Panaji and 36 kms. from Margao, it is the smaller of the three wildlife sanctuaries of Goa. More then a sanctuary, it is an ideal jungle resort, a major attraction for school going children and nature lovers. Its mini zoological Park, Deer Safari Park, , Botanical gardens, Nature Education Centre, wildlife and nature trails, and archaeological exhibit attract people through the year. Stay at Comfortable cottages are available here for tourists.
Day 05: Cotigao Wildlife Sanctuary Goa
Visit Eco Tourist Spot Cotigao Wildlife Sanctuary which is The second largest of the three wildlife sanctuaries in Goa, with an area of 105 sq. kms. is located about 76 kms. from Panaji, in Cancona Taluka in South Goa.. It is covered with dense forest and varied wildlife. The ancient Jeevottam Partagal Math, noted for its Vedic studies, lies in the vicinity of the sanctuary. Overnight: Hotel/Resort
Day 06: Dr. Salim Ali Bird Sanctuary Goa


Early morning after Breakfast Visit Dr. Salim Ali Bird Sanctuary which is Spread over 1.78 Sq. kms. and located at the western tip of the island of Chorao along the river Mandovi near Panaji, it is fully covered with mangrove species. Varieties of local as well as migratory birds frequently visit the area. This sanctuary can be visited anytime of the year with the permission of the Chief Wildlife Warden, Forest Department, Junta House, Panaji – Goa. The Sanctuary is approachable on foot after crossing over by ferry from Ribandar to Chorao. There area some private parties who take tourists around in their canoes fitted with outboard motors.
After visit you can have shopping and then you will be transferred to Hotel/Resort enjoy Ayurveda Massage and you can depart to your Destination the Next Day with a New Happy Experience.
Tour Package Updated on 2012-04-24 02:45:15. Request a FREE Quote Contact Us
Incoming search terms:
cotigao booking and prices cottages of goa forest devlopment
best eco tourism in goa
family enjoying on goa beach images
most beautiful flower gardens in the BHAGAVAN
Tinyurl for this post
More Travel Deal & Holiday Package
Travel To : ECOTOURISMINDIA, Goa, Wildlife · Tour Package :eco, Eco Tour Packages India, Eco Tour Places Goa, Eco Tour Places India, eco tourism, Eco Tourist Spot Goa, Eco Tourist Spot India, Goa, Goa Eco Tour Packages, Goa Eco Tourism Packages, Natural Tour Goa, Natural Tour India, wildlife