India Holiday Packages » Agra » Historical Tourist Places Tour Packages India

India is a diverse country steeped in history. Its past has seen a melting pot of different religions, rulers and empires — all of which have left their mark on the countryside. Many historical places in India are listed as World Heritage sites due to their cultural importance.
Visit these popular historical places in India and take a trip back in time to ancient India. You'll marvel at the architecture of what are some of the most stunning and captivating historical attractions that India has to offer.

Visit Tajmahal Agra India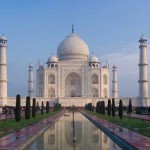 The Taj Mahal looms fairytale-like from the banks of the Yamuna River. It's actually a tomb that contains the body of Mumtaz Mahal – the wife of Mughal emperor Shah Jahan. He had it built as an ode to his love for her. Dating back to 1630 AD, the Taj Mahal is made out of marble and took 22 years and 20,000 workers to complete. One of the most captivating things about it is the way its color appears to gradually alter in the changing light of the day.
Visit Hampi Vijayanagar
Now a laid back village, Hampi was once the last capital of Vijayanagar, one of the greatest Hindu empires in India's history. It has some extremely captivating ruins, intriguingly intermingled with large boulders that rear up all over the landscape. The ruins, which date back to the 14th century, stretch for just over 25 kilometers (10 miles) and comprise more than 500 monuments. An incredible energy can be felt at this ancient place.
Visit Khajuraho Temples
If you want proof that the Kama Sutra originated in India, Khajuraho is the place to see. Erotica abounds here with over 20 temples devoted to sexuality and sex. The temples are best known for their erotic sculptures. However, more than that, they show a celebration of love, life and worship. They also provide an uninhibited peek into ancient Hindu faith and Tantric practices. No where else will you find such unique temples with meticulously detailed carvings.
Visit Ajanta and Ellora Caves

Astonishingly carved into hillside rock in the middle of nowhere are the Ajanta and Ellora caves. There are 34 caves at Ellora dating from between the 6th and 11th centuries AD, and 29 caves at Ajanta dating back to between the 2nd century BC and 6th century AD. While the Ajanta caves are rich in paintings and sculpture, the Ellora caves are renowned for their extraordinary architecture. The most incredible thing about these caves is that they were crafted by hand, with only a hammer and chisel.
Visit Fatehpur Sikri
A city that was once the proud capital of the Mughal Empire in the 16th century, Fatehpur Sikri now stands deserted as a well preserved ghost town. It was abandoned by its occupants after only 15 years due to insufficient water supply. Constructed out of red sandstone, Fatehpur Sikri is full of regal palaces and courtyards. You can almost feel yourself being transported back to medieval times here.
Tour Package Updated on 2012-04-16 04:44:00. Request a FREE Quote Contact Us
Incoming search terms:
travelspotindia
kaamsutra ajanta ellora scupture
historical sculpture ajanta verul
statue of ajanta ellora
ajanta ellora statues kamsutra
ajantaaloraphoto
erros exotica kamasuthra
ajanta ellora statue image
www kamasutra Exiticapainting com
kamsutra indian ajanta alora photo
Tinyurl for this post
More Travel Deal & Holiday Package
Travel To : Agra · Tour Package :Historical destination in india, Historical destinations in india, Historical holiday package india, Historical tourist attraction india, Historical Tourist Place india, Historical tourist places in india, Historical travel spot india