India Holiday Packages » Italy » Rome Segway Tour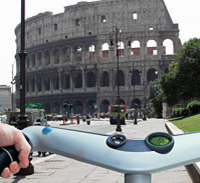 Relive the days of ancient Rome while you glide from sight to sight on a Segway, the coolest ride of the 21st century! Far easier than walking, and more unique and private than a coach tour, getting around Rome on a Segway personal transporter is a once-in-a-lifetime experience. View Details
While you ride your two-wheeled electric Segway, which operates by self-balancing, you'll listen to your audio guide via a set of headphones and hear entertaining facts and anecdotes about Rome's history as you glide. You'll be introduced to Rome's hidden treasures (exterior only) and be entertained by the impressive legacy of legends and stories that resonate throughout the city.

Highlights of the three-hour Rome Segway Tour include:
Circus Maximus
Arch of Constantine
Roman Forum
Colosseum
Trajan's Column
Palatine Hill
Santa Maria's Church and its Bocca della Verita wall sculpture
Breathtaking panoramic views over Rome
Numbers on your Segway tour are limited to 8, and a minimum of 2. The tours are escorted by a tour leader to ensure a safe, unique and private experience.
Special Offer – save 15% on the adult recommended retail price – Book Now! View Details
Duration: 3 hours (approx.)
Location: Rome, Italy
Product code: 3092ROM01
Price From USD $85.17 was USD $100.20

Tinyurl for this post
More Travel Deal & Holiday Package
Travel To : Italy · Tour Package :attractions rome, Italy, Rome, Rome Attractions, Rome Segway Tour, Rome Segway Tour Booking, Rome Segway Tour Offer, Rome Segway Tour Package