India Holiday Packages » Venice » Skip the Line: Venice in One Day Tour Package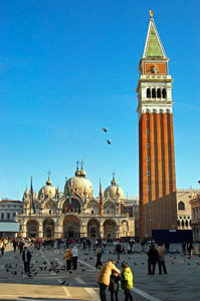 First time in Venice? You'll see all the highlights of this magical city on this combined walking and boat tour. Plus, you'll skip the long lines at St. Mark's Basilica – don't waste time waiting in lines when you're on vacation!
Your comprehensive introduction to Venice begins with a two-hour walking tour highlighting all the important monuments, from San Marco Square to the Rialto Bridge. You'll learn the history behind the famous landmarks, including the basilica's Byzantine heritage and the adjoining prisons of the Doge's Palace. Plus, you'll visit the famed basilica of St. Mark's without having to stand in long queues! Check Availability and Book Online

Leaving the crowds behind, you'll enter a labyrinth of narrow passageways, alleys, canals and delicate bridges. Highlights include Campo Santa Maria Formosa, Marco Polo's House, an old merchant's warehouse and the most beautiful well-head in Venice, before finishing the tour near the Rialto Bridge.
Next, enjoy a relaxing cruise along the Grand Canal of Venice. Along the way you will learn the history of the stunning palaces and churches that line the famous canal, as well as anecdotes about the famous people who have resided on Venice's most important 'street'. You'll also enjoy a fascinating tour of the minor canals of Venice.
Enjoy free time between the Venice Walking Tour and Grand Canal Boat Tour. Exact times vary depending on the season. Most walking tours conclude approx. 1:10pm (except Sunday at 4:00pm) and boat tours start between 4:30pm and 5:30pm.
St. Mark's Basilica is free of charge to enter and we guarantee that you'll skip any long lines as part of this tour. Venice is subject to flash floods and occasionally the Basilica is closed to the public (without notice) because of high water or festivities.
Special Offer – Book online and save over 10% on the local price in Venice
– Book Now!
Duration: 3 hours (approx.)
Location: Venice, Italy
Product code: 2635V1DAY
Cost : $72.21 Check Availability


Skip the Line: Venice in One Day Tour Package

,
Tinyurl for this post
Travel To : Venice · Tour Package :Venice, Venice Attractions Venice Sight Seeing, Venice One Day Tour, Venice Tour, Venice Tour Booking, Venice Tour Package