India Holiday Packages » Vailankanni Tour Package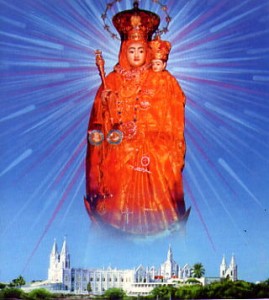 Our Lady of Health, Mother Vailankanni Tour Package Destinations Chennai – Pondicherray – Velankanni – Trichy – Chennai
Vailankanni Tour Package Day 01 : Arrive Chennai
On arrival at Chennai airport meet with our representative at airport arrival lounge and transfer to the hotel. Overnight stay at hotel.

Vailankanni Tour Package Day 02 : Chennai
Morning after breakfast full day visit to Chennai Churches, visit including Fort St. George, San Thome Basilica, Theosophical Society, St. Mary's Church, Luz Church, Little Mount Church, St. Andrew's Church, Christ the King Church. Overnight stay at hotel.
Fort St. George:- The British East India Company under the direct supervision of Francis Day and Andrew Cogon built it in 1640 AD. This place achieved its name from Saint George, the patron saint of England. The fort houses Saint Mary's Church and fort museum. Saint Mary's Church the oldest Anglican Church built in 1680 and the tombstones in its courtyard are the oldest British tombstones in India. It presently house the Secretariat and Legislative Assembly. The 46 m high flagstaff at the front is a mast salvaged from the 17th century shipwreck. The Fort Museum has a fascinating collection of memorabilia from the British and French East India companies as well as the Raj and Muslim period.
San Thome Basilica : San Thome Basilica at the south end of Marina Beach was named after Saint Thomas (Doubting Thomas). High Court Building in Chennai,Tour of Chennai It is believed that he had come to Chennai in 52 AD and was killed at St. Thomas Mount just outside the city in 78 AD. Built in 16th Century by the Portuguese, in 1896 it was made a basilica. The beautiful stained glass window at the basilica portrays the story of St Thomas and the central hall has 14 wooden plaques depicting scenes from the last days of Christ. In the cathedral is a 3ft. high statue of Virgin Mary believed to have been brought from Portugal in 1543.
Theosophical Society : It was formed to facilitate and encourage the study of comparative religion, philosophy and science situated in beautiful sylvan settings in Adyar. Founded by Madame Blavatsky and Col. Olott in USA, the society was later moved to Adyar in 1882. Apart from shrines of all faiths and the peaceful Garden of Remembrance, there is a 95-year old library which has a very good collection of rare Oriental manuscripts written on palm leaves and parchment.
St. Mary's Church : The oldest surviving English church in Chennai was completed in 1680.You will find the remainders of Robert Clive and Elihu Yale the early governor of Chennai in this church.
Luz Church : Dedicated to Our lady of Light and built by Portuguese sailors, this 16th century church is one of the oldest churches of Chennai.
Little Mount Church in Chennai, This is a tiny cave where St Thomas is believed to have lived when he came to India around AD 58.It is known locally as Chinnamalai.The cave is entered via the Portuguese church built in 1551.
St. Andrew's Church:- Completed in 1821 in a classical style this church has an impressive blue dome decorated with gold stars. You can get excellent views from the top.
Christ the King Church :Commissioned by French clergymen this church was designed and built by an Indian mason in 1933. It is a fine example of gothic architecture standing majestically in the middle of Loyola College campus. It has pointed arches, ribbed vaults, rose windows, three-aisled nave and flying buttresses. Covering an area of 150 feet by 60 feet, with stained glass windows, this church is a captivating sight, inside as well as outside. The spire is 157 feet high and has a stairway leading to the top, where a cross stands.
Vailankanni Tour Package Day 03 : Chennai – Pondicherray, 165 km
Morning after breakfast drive to Pondicherray. On arrival check in at the hotel.
Later in the afternoon visit Auroville, This is the place where people from different nationalities, religions, creeds and beliefs can live in peace and harmony. The construction of this 'universal town' was started in 1968 and is still under progress. Various countries have offered to build permanent colonies that will reflect the culture and ethos of the respective country.
The French Heritage : This is the hermitage or ashram of Aurobindo Ghosh, a militant turned mystic who made Pondicherry his home from till his death in 1950. His vision and ideals continue to draw admirers and followers from all over the world. The place is a must visit during Pondicherry tour.
Eglise de Sacred Coeur De Jesus : Eglise de Sacred is a catholic church that is noted for its Gothic architecture and stained glass planes. This must visit Pondicherry tour attraction has beautiful glass paintings that depict the entire life of Jesus Christ.
Serenity Beach : Serenity beach signifies its name. The place is just a 15-minutes drive from the downtown Pondicherry. This splendid virgin beach is a must during your tour of Pondicherry. The place is ideal for a quick dip, a touch of the sun and a cool reprieve in the shades of coconut grooves.
Overnight stay at hotel.
Vailankanni Tour Package Day 04 : Pondicherray – Velankanni (Vailankanni), 170 km
Morning after breakfast drive to Velankanni. On arrival check in at the hotel. Overnight stay at hotel.
Vailankanni Tour Package Day 05 : Velankanni
Visit Holy Mass at mother Velankanni church. Overnight stay at hotel.
The Velankanni Church is in honor of the Lady of Health popular as the Madonna of Velankanni. Devotees to the church believe that the Lady of Health possesses miraculous powers. The Church is located on the shores of the Bay of Bengal more particularly at the Eliot's beach in Besant Nagar. Completely dedicated to virgin Mary and the Heavenly Mother.
It was even recorded in the manuscripts, that Mother Mary appeared once with Jesus in this small place somewhere near the 16th or early 17th century. From then onwards it is the favored destination of then Christians. Mother appeared in the dreams of Rev. Father Arulappa and expressed her desire of having a church in her name in that place. Arapulla toiled day and night along with Jp Dsouza, an engineer and finally dedicated it as Annai Velankanni Church. The Church had a humble beginning in 1971from a small dwelling to a magnificent basilica declared open for the public in 1972. It houses an imposing 97 feet Belfry.
The devotees in Velankanni offer to Our Lady of Health candles in various forms in days of ailments. The tradition is that in case of cardiac complications, a heart size candle is offered, in case of jaundice, liver shaped candles, lungs problem then a case of tuberculosis and many others. After being cured of the disease many bring as offering small golden or silver replica of the organ that has been cured.
Vailankanni Tour Package Day 06 : Velankini – Trichy, 95 km – Chennai, by air – Departure
Morning after breakfast drive to Trichy. On arrival transfer to the airport to board the flight for Chennai. On arrival transfer to the international airport to board the flight for onward destination.
Vailankanni Tour Package

,
Incoming search terms:
velankanni mother Mary photos
welakkanni
velankanni mary
our lady of vailankanni
velankanni tours
mother velankanni images
vailankanni hd
our lady of velankanni
images of mother velankani
images of mother vailankanni
Tinyurl for this post