India Holiday Packages » Bikaner Tour Packages Rajasthan India
bikaner reviews

Bikaner Tour Packages Get Free Travel Plan from Experts before you plan your trip to bikaner. we will provide details on things to do hotels vacation rental and all details for you to have a trip to bikaner Get Discount Tour Itinerary to bikaner. Bikaner can be reached by train from Delhi, Jaipur, Mumbai, Agra, Punjab and other major Indian towns. It can also be reached by road from Delhi Via Shekawati or Jaipur. The Highways are very good however the country roads in the shekawati region can be a bit of a dampner. The road from Jaipur Jaisalmer and Jodhpur are the best roads. The nearest Airport is Jodhpur (around 4.5 hours journey) and is well connected by road and rail. Getting around in Bikaner is best done using Trishaws and Tongas ( horse carts) due to the fact that streets are too narrow (so that they are not clogged with sand incase of a sandstrom which are very frequent) and busy for cars.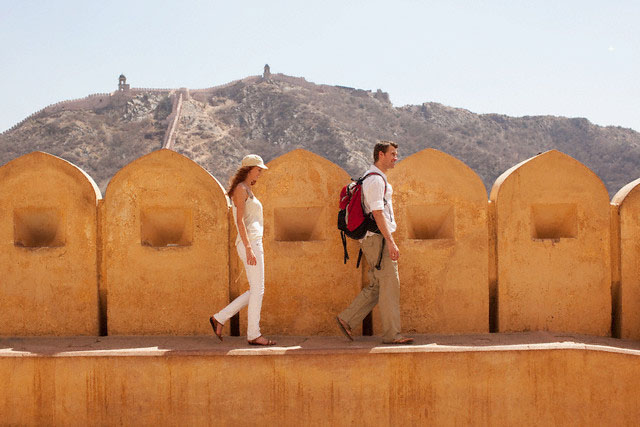 Bikaner Sightseeing
Junagarh Fort: The fort was built by Raja Rai Singh, the sixth ruler of Bikaner who reigned from 1571 to 1612. It is a fort of the Bikaner royal family. You will get a chance to know about the history of the Bikaner royal family. Also has a museum which displays weapons, ornaments of the previous era. This is one of the oldest forts and never difited in history one of the few forts in India. One of the king saved all hindus of the world from being converted to Islam by emperor Aurangjeb.
Laxmi Niwas palace: The Laxmi Niwas Palace is a former residential palace of the king of the former Bikaner state, Maharajah Ganga Singh in Bikaner in the Indian state of Rajasthan. It was designed by the British architect, Sir Samuel Swinton Jacob in the year 1902 completed in year 1926 and its part of llalgarh palace. The style of architecture is Indo-Saracenic. It is now a luxury hotel owned by Golden Triangle Fort & Palace P. Ltd.
Lalgarh: Lalgarh is another fort of the Rajputana family. Some of the the Rajputana kings used to stay here. You will see the royal story of the Rajputana family.
Karni Mata temple: is at Deshnok, 32 kilometres from Bikaner. This is a temple of a local deity, "Karni Mata". It is believed that the "Karni Mata" used to take care of the Rajputana family. This temple has a rat infestation but the locals believe them to be holy. you will likely be told that seeing a certain white rat is very auspicious, but if you press further most locals will tell you there is always one or two visible around the temple. Be careful while walking inside the temple, you might accidentally step on a rat.
 Shivbari Temple, Shivbari choraha. This is a centuries old shiva temple. It has two huge "Bawris" (water reservoirs), Thousands of people visit this place every year.
Gajner Palace (time), bikan. Gajner near Bikaner is an incomparable jewel in the Thar Desert is built on the embankment of a lake. Built by H.H. Maharaja Sir Ganga Singhji of Bikaner, this Grand Heritage property is spread over 6000 acres. Gajner Palace was used as a hunting resort by the former Maharajas and visiting British dignitaries during the days of the Raj.
Things To Do & Attractions In Bikaner
Bhandasar Jain Temple
Camel Breeding Farm
Devi Kund
Gajner Palace & Wildlife Sanctuary
Ganga Golden Jubilee Museum
Jain Havelis
Junagarh Fort
Kalibangan
Karnimata Temple
Katariasar Village
Kolayat
Lallgarh Palace
Laxmi Nath Temple
Moolnayakji
Raj Ratan Bihari and Rasik Shiromani Temple
Shiv Bari Temple
Tourist Spot in Bikaner
Travel Deal: Request a Free Quote
Book Hotels & Vacation Rental in Bikaner
Travel Deal: Request a Free Quote
Bikaner Tour Packages Rajasthan India

,
Tinyurl for this post
Rajasthan Tour Packages
Latest Booked Packages