India Holiday Packages » Ranthambore Tour Packages India
Ranthambore reviews

Ranthambore Tour Package Get Free Travel Plan from Experts before you plan your trip to ranthambore which is is a national park and tiger reserve located in the Rajasthan state in western India. we will provide details on things to do hotels vacation rental and all details for you to have a trip to ranthambore Get Discount Tour Itinerary to ranthambore
Things To Do & Attractions In Ranthambore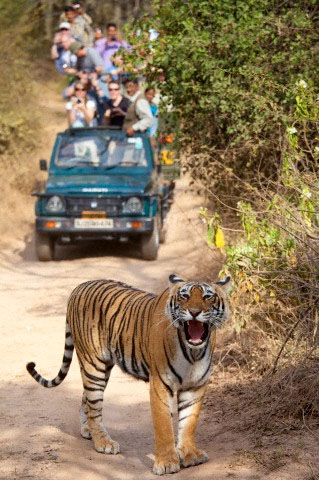 National Park (Ranthambore National Park), Rajasthan (Sawai Madhopur). Ranthambore National Park located in Sawai Madhopur district of Rajasthan is one of the most visited wildlife parks in India. The main attractions of Ranthambore National Park are its tiger and bird population. The main faunas of Ranthambore are Tigers, Leopards, Striped Hyenas, Sambar deer, Chital, Nilgai, Common or Hanuman langurs, Macaques, Jackals, Jungle cats, Caracals, Sloth bears, Black bucks, Rufoustailed Hare, Indian Wild Boar, Chinkara, Common Palm Civets or Toddy cat, Coomon Yellow Bats, Desert Cats, Fivestriped Palm Squirrels, Indian False Vampires, Indian Flying Foxes, Indian Foxes, Indian Gerbilles, Indian Mole Rats, Indian Porcupines, Longeared Hedgehogs, Ratels, Small Indian Mongoose, Small Indian Civets and Common mongoose. Various species of reptiles are also found in this park.
Ranthambhore Fort, (13 Km from Sawai Madhopur Railway station). Founded in 944 and initially named "Ranath Bhawar Garh" which means "a place of Rajput warriors".
Bakula: Ranthambore wildlife sanctuary is mostly covered with thick forest. Bakula is one of the thickly forested regions. Bakula region has various pools and water holes as well as a dense forest part, due to the forest cover and easily available water, abundance of wildlife is easily found in the Bakula Region. Tourists can easily see tigresses with their young cubs near the water holes. Bakula dense forest is an excellent place for tigresses and their young cubs to hide.
Kachida Valley: Kachida Valley has many outcrops and low hills. This valley is located near to outskirts of Ranthambore national park. Tourists should go through Jeep Safari, while exploring this area. Panther population of Ranthambore National Park is found here, they avoid venturing in the main area of jungle, which avoids their conflicts with tigers. Beers are also found in a good number here.
Lakarda Anantpura: Lakarda Anantpura is located in the north and north-west part of the Ranthambhore National Park. This area is ideal location to visit Sloth Bears. Tourists can also find lots of ant hills, favourite of beers. It is a rare chance to visit these beers, but Hyenas and their pugmark can be easily seen over here.
Jogi Mahal: This fort is among the must watch places in Ranthambore national park. This fort is located near to the park and offers amazing facilities to the tourists, to make their journey more comfortable.
Ranthambore Tour Packages India

,
Tinyurl for this post
Rajasthan Tour Packages
Latest Booked Packages