India Holiday Packages » Alleppey Tour packages Kerala India
Alleppey reviews

Alleppey Tour Package Get Free Travel Plan from Experts before you plan your trip to Alleppey. we will provide details on things to do hotels vacation rental and all details for you to have a trip to Alleppey Get Discount Tour Itinerary to Alleppey. This district headquarters is also known as Alappuzha and is located 70 kilometres south of Cochin. It is often called the Venice of the East due to the canals that connect it to Kerala's famous snaking backwaters. Alleppey has a wonderful past. Though the present town owes its existence to the sagacious Diwan Raja Kesavadas in the second half of 18th century, district of Alappuzha figures in classical Literature.The best thing about Alappuzha and Kerala in general is the weather. Due to its proximity to the ocean it is more temperate than central India.Monsoon is always heavy.Now a days monsoon tourism is also popular from June to August.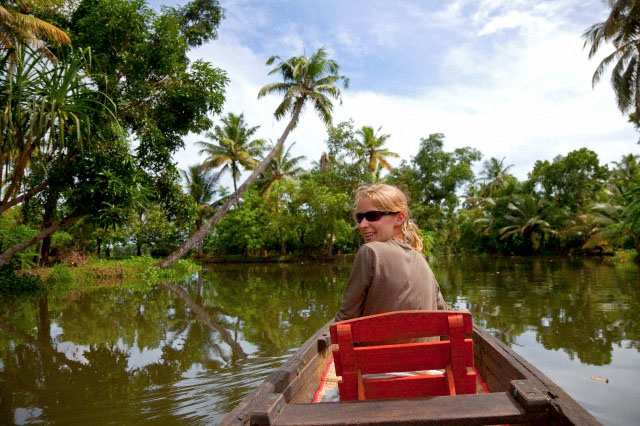 What to See in Alleppey
If you are visiting Alappuzha, enquire about the schedule of temple festivals. Alappuzha is one of the few towns in Kerala where non-Hindus are generally allowed enter the temple premises. Most of the famous Kerala temples do not allow such thing, and if you are a foreigner you are immediately branded as non-Hindu and prevented from entering. Alappuzha temples are generally not that narrow-minded, though there might be a few areas inside the temples where the entry is restricted.
Alleppey has a high percentage of Christians. St. Mary's Church (Champakulam) is believed to be one of the seven churches established by St. Thomas.
Sreekrishna Swamy Temple, Ambalapuzha.
Karimadi Kuttan (Karimadi, Near Ambalapuzha). 9th century black granite statue of the Buddha, locally known as Karimadi Kuttan. This statue is protected by the Archeological survey of India.
Marari-beach, Mararikulam. Mararikulam is one of the most beautiful place in Alappuzha. Mahadeva temple, Arthunkal church are near by places. 16km north of Alappuzha town. You can get there by local bus from the KSTC bus stand, get off at Maraikulam Junction (journey time: 20min), and then walk 4km or (better) get an autorickshaw for around 30 rupees to the beach itself.
Main beach, (Western edge of town). A fairly large, flat and clean beach by Keralan standards. An old pier which used to be used for trade and had at one point three railway lines still stands in disrepair. Locals play frisbee and volleyball, and camel and pony rides are available. Free.
What to Do in Alleppey
Snake Boat Races – Alappuzha is known for its Snake Boat races and one of the prestigious competitions glorifying this tradition is the Nehru Trophy Snake Boat Race Held on every second Saturday of August, the competition is named after Jawaharlal Nehru who also inaugurated the event on 1952. To compete for the cup, one must ride in a snake boat which approximately carries over a hundred persons. Boats are available for rent for tourists who want to take a closer look at the event.
Ride a House Boat – Alappuzha is also well known for its house boats
Alappuzha is inlaid with channels that support its thriving backwater tourism. Many tourists that come to Alappuzha take a houseboat cruise along the backwaters. Houseboats can be rented for 12 Hrs to few days and there is a new hop-on, hop-off service through remote backwaters in a shared-houseboat. They come equipped with well furnished bedroom, sit-outs, kitchen and modern bath and toilet facilities. Some of the house boats even sport an air-conditioner, though most people prefer a calm cruise with lanterns which add to the rustic feel. The houseboats are manned by drivers and a cook. From the boat one can observe the everyday village life of people, stop for toddy (traditional mildly alcoholic drink made from coconut sap) with grilled prawns, watch birds, and relax in the middle of the lake. It is nice to go towards Kuttanad, the rice bowl of Kerala, where rice farming is done below sea level.
Krishnendu Ayurveda Wellness Center (Krishnendu Ayurveda Wellness Center), Chingoli, Karthikappally, Alappuzha , Kerala, . Krishnendu ayurveda spa and resort is a well known ayurveda centre near Haripad, Alleppy. It is one of the most reputed firm in central kerala as it is run by a traditional family of ayurvedic doctors.They have specific treatments for spine related cases and wellness programs for the healthy people also. Here you can experience genuine kerala Ayurveda treatment.The hospital and spa are constructed in Kerala traditional architecture with modern facility.You could also enjoy a walk through the well landscaped herbal garden and pay a visit to their herbal medicine manufacturing unit to see how the medicines are prepared.
Kerala House Boats  It's advisable to book a houseboat through houseboat operator rather than depending on touts. Touts take commissions between Rs 500 to 2000. Booking on the internet can be a good option, rather than waiting for last-minute booking during the high season. You may get a better price if you book on internet and most operators have good service.
Things To Do & Attractions In Alleppey
St. Andrews Church, Arthinkal
Sri Krishna temple at Ambalapuzha
Punnamada Kayal (lake)
Pandavan Rock
Mannarasala Sree Nagaraja Temple
Krishnapuram Palace
Karumadi village
Edathua Church
Chettikulangara Bhagavathy Temple
Backwater cruise
Alleppey Beach

Alleppey Tour packages Kerala India

,
Incoming search terms:
Alleppy kerala
alappuzha tour spots and raring
alapuzha tour package in june
alleppey tourist place photo
kerala alappuzha tourist places
Tinyurl for this post
Kerala Tour Packages
Latest Booked Packages